On Saturday 16 July, the 75th anniversary of the first involvement of anti-fascist volunteers from north west England in the Spanish Civil War was commemorated at Manchester Town Hall. CHRIS HALL was there.
Over 100 people, including many young Spaniards, were present to hear about the contribution of the north west in the fight against fascism in Spain between 1936 and 1939. The commemorative plaques honouring the International Brigades and the ILP Contingent were side-by-side for the first time.
The Manchester Lord Mayor Harry Lyons opened the proceedings and was followed by speakers who recounted the experiences of the volunteers.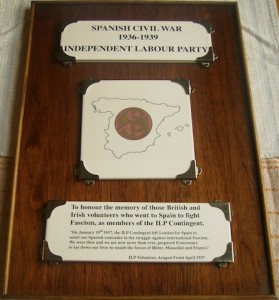 First, I stated that over 400 volunteers came from the north west to serve in Spain. Most were wounded and many were killed. Also, in light of the recent opening up of M15 records, it's possible that maybe many more volunteers went to Spain from the north west than was first thought.
I went on to recall the views and experiences of two Liverpool volunteers – Bob Edwards, who commanded the ILP Contingent, and Jack Jones, the famous trade unionist, who served in the International Brigades.
Diane Bradbury then recounted the life story of Stalybridge's Lillian Urmston who served in Spain as a nurse.
Finally, Dolores Long talked about her father Sam Wild from Manchester who was the last Commander of the British Battalion of the International Brigades in Spain. She followed this with a resounding rendition of 'Pasionaria's' farewell speech to the International Brigades.
Songs were sung by Mike Wild, another offspring of Sam Wild, about why people volunteered to fight in Spain, and the commemorative event ended with the singing of the 'Jarama Valley' song and a minute's silence.
Afterwards people mingled and took pictures of both plaques, and the Spanish in particular were interested in the ILP plaque, asking who the ILP volunteers were and what happened to them.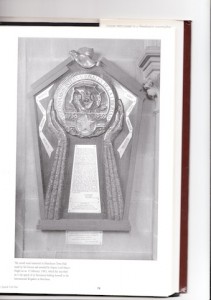 The event was totally non-partisan and finally, at last, the contribution of the ILP volunteers has been commemorated alongside those who served in the International Brigades.
Salud
—-
More information from the International Brigade Memorial Trust.