Independent Labour Publications (ILP) is an educational trust, publishing house and pressure group committed to democratic socialism and the success of a democratic socialist Labour Party.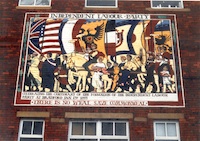 The ILP was formed in 1893 as the Independent Labour Party, which became a co-founder of the Labour Party at the beginning of the 20th century. Today we remain committed to Labour's aim of creating a society 'for the many, not the few' and seek to engage with others in discussing how this vision can be turned into reality.
The ILP encourages membership of the Labour Party and sees the future of democratic socialism bound up in the fortunes of the Labour Party. Indeed, we regard ourselves as being deeply engaged in the task of helping the Labour Party move more surely and effectively towards its goal of a democratic socialist society.
We are committed to work for the return and retention of a Labour government, and to work for policies that promote a society in which power, wealth and opportunity are in the hands of the many, not the few, one defined by the quality of its democracy, justice, freedom, choice and equality, by its diffusion of power and responsibility, by co-operation, mutual assistance, diversity and creativity.
—-
Read more about our political perspective in 'The ILP: Our Politics'.
Read more about our network of supporters, ILP Friends.
Read more about the history of the ILP.
Contact us at info@independentlabour.org.uk
We welcome contributions to this website as well as comments on the articles posted here. If you'd like to contribute please send submissions or ideas for articles to editor@independentlabour.org.uk.