A campaign is launched this week to urge the UK government to recognise the genocide against the people of Iraqi Kurdistan. The aim is to collect 100,000 signatures on an e-petition to trigger a parliamentary debate. GARY KENT reports.
There is another Iraq underneath Iraq, according to a senior official I recently met in Iraqi Kurdistan. She is responsible for helping to find the mass graves of scores of thousands of missing Kurds.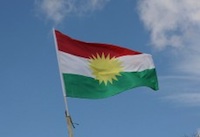 About 200,000 Kurdish men, women and children were slaughtered in the 1980s, many more before that. Only 3,500 bodies have been recovered so far. Overall, an estimated million people throughout Iraq remain missing.
I have met widows who simply cannot know for certain if their sons or husbands are dead or not – their lives are on permanent hold.
Some do return. The most notorious act of Saddam Hussein's campaign to eliminate the Kurds was the attack with chemical weapons on the town of Halabja near the Iranian border in 1988. The memorial to the victims contains 5,000 names, one of which is highlighted in green.
This is because the boy in question had actually been spirited over the border into Iran. When he returned as an adult he was claimed by many parents. DNA allowed him to be reunited with his parents after 21 years of a tragic limbo.
It is sadly likely, however, that the relatives of most of the missing will not be so lucky. Their loved ones are scattered throughout Iraq in mass graves that are being discovered all the time. So far, there are nearly 300 such sites but more will be found.
Yet the reality of this barbaric onslaught is little known in the west. We have yet to understand that this was a genocide – a term that should be used correctly, not scientifically.
It means a systematic process of eliminating a people. It usually starts with small measures and becomes industrial. The genocide perpetrated over decades against the Iraqi Kurds, which is known collectively as the Anfal, began with the Arabisation of villages around Kirkuk in 1963, then involved the deportation and disappearances of (Shia) Faylee Kurds in the 1970-80s, the murder of 8,000 male Barzanis in 1983, the use of chemical weapons in the late 1980s, most notably against Halabja, and finally the Anfal campaign of 1987-88.
Its effects endure to this day. Every family in Iraqi Kurdistan has a story to tell. Generations of men are missing from families. Health problems persist and are handed down the generations. Some 4,500 out of 5,000 villages were destroyed between 1976 and 1988. Farmers were shot on sight and wells were capped. Those who were forcibly urbanised are used to city life and the potential of Iraqi Kurdistan's vast agricultural resources is untapped although it was once the breadbasket of the world.
Genocide is not an academic issue. Given the hatred towards the Kurds they understandably fear that it could happen again and that they could, once more, be abandoned to their fate.
Britain has a good reputation in Iraqi Kurdistan where most people say that John Major's decision to set up a no-fly zone in 1991 and Tony Blair's decision to oust Saddam saved them from disaster.
The Kurdistan regional government, together with a cross-party group of MPs, is launching a campaign today to urge the UK government to officially recognise Anfal as a genocide. The group is asking the UK to encourage the EU and UN to do likewise and is launching an e-petition to collect 100,000 signatures in the coming year to trigger a parliamentary debate.
—-
Gary Kent is administrator of the All-Party Parliamentary Group on the Kurdistan region and parliamentary adviser to the KRG UK. He writes here in a personal capacity.
This article was first published by Progress Online.
You can sign the petition here.