Eighty-six years ago, Britain was in the grip of its first and only general strike – which ran from 4-13 May 1926.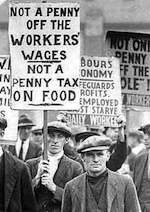 It started with coal miners, who were fighting a long-running dispute over the introduction of longer working hours and a pay cut. Transport workers, dockers, printers and others joined the action in solidarity.
As a 20-year-old member of the Independent Labour party, Hetty Bower from Hackney in East London, supported the strikers. She is now 106 years old, but remembers it vividly.