In the second of our anniversary profiles, MICHAEL HERBERT remembers Hannah Mitchell, lifelong socialist and suffragette, an ILPer whose posthumous autobiography is a classic account of a working class woman's quest for personal and political liberation.
Hannah Webster was born in 1871 on a remote farm in Alport Dale, Derbyshire. She had just two weeks schooling in her whole life, was often brutally treated by her mother and eventually left home, aged 14, to live with her brother and his wife, finding employment as a maid and then a seamstress in Bolton.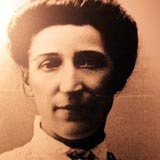 She started reading the Clarion newspaper and attending outdoor socialist meetings in the centre of Bolton. She heard ILPer Katherine St John Conway speak, and later recalled that "though not much older in years than myself, this girl was already a highly educated, well-trained personality. Perhaps at first, I paid more attention to the speaker than to her speech, but I heard enough to send me away with an inspiration which later sent me out to the street corners with the same message."
In 1895 she married a fellow socialist, Gibbon Mitchell, who worked as a tailor's cutter. They had just one child, at her insistence, believing that, although birth control was not the perfect solution to social problems, "it is the first and simplest way at present for the poor to help themselves, and by far the surest way for women to obtain some measure of freedom".
She soon realised that while the ILP preached equality for women, the practice was often quite different. In her autobiography, The Hard Way Up, she writes:
"I soon found that a lot of the socialist talk about freedom was only talk and these socialist young men expected Sunday dinners and huge teas with home-made cakes, potted meat and pies, exactly like their reactionary fellows… They expected that the girl who had shared their weekend cycling or rambling, summer games or winter dances, would change all her ways with her marriage and begin where their mothers had left off."
The married couple and their son spent three years in Newhall, a colliery village near Burton-on-Trent where they were active in the ILP and the Clarion movement. In 1900 they moved to Ashton-under-Lyne, where they joined the Labour Church, a Christian socialist movement founded in Manchester by John Trevor in 1891. As she explained, it "attracted the type of socialist who was not satisfied with the stark materialism of the Marxist school, desiring warmth and colour in human lives; not just bread, but bread and roses, too."
She took on the job of lecture secretary for the branch, organising the weekly talks, while the Mitchells often put the speakers up in their own home.
Mitchell gave her own first public speech when the Clarion Van came to Ashton, and then began to speak at Labour Church Sunday meetings. To her surprise she soon found herself in demand as a speaker. "I had a ready wit and pretty good vocabulary, and I had no difficulty in answering questions, or in dealing with hecklers," she wrote.
In May 1904 she was elected as a Poor Law Guardian to the board in Ashton-under-Lyne, where she did her best within the confines of the system to help the poor. She also stood for the council and, although not successful, attracted considerably more votes than the male Labour candidate, who had refused to run jointly with the ILP. She also became involved with the campaign for votes for women, having become friendly with Emmeline Pankhurst.
The suffragettes
On 10 October 1903 a small group of socialist women met in the parlour of Mrs Pankhurst's comfortable home in Manchester to set up the Women's Social and Political Union to campaign for women's suffrage. Barely noticed at the time, the organisation hit the headlines two years later when two members – Christabel Pankhurst and Annie Kenney – were arrested after being were thrown out of the Free Trade Hall during a Liberal election meeting and briefly imprisoned in Strangeways.
A new phase in the campaign for Votes for Women had begun, a militant movement that was quickly dubbed 'the suffragettes' by the press. It was led by Emmeline Pankhurst and her daughter Christabel, who became two of the most famous women in the land.
Many expected the Liberals to win the coming general election. Sir Edward Grey, a leading member of the Liberal Party (he was later Foreign Secretary), came to speak in Manchester at the Free Trade Hall on 13 October 1905. The WSPU wrote asking him to receive a deputation, but he did not reply. So the WSPU organised a number of meetings in the build-up, and chalked the pavements until, as one member Teresa Billington remembered, "we were unable to bend".
On the night of the meeting Pankhurst and Kenney joined the audience intending to heckle and, with luck, to be arrested and imprisoned. Flora Drummond and Billington were also there as observers.
Another member of the Pankhurst family, Sylvia, wrote an account of what happened in her book The Suffragette Movement:
"Sir Edward Grey was making his appeal for the return of a Liberal government when a little white 'Votes for Women' banner shot up. 'Labour Representation' was the cry of the hour. Christabel thrust Kenney forward, as one of the organised textile workers, and a member of a trade union committee, to ask: 'Will the Liberal Government give women the vote?'

"Other questions were answered; that question was ignored. When it was persisted in, Annie Kenney was dragged down by the men sitting near her, and one of the stewards put a hat over her face. Christabel repeated the question. The hall was filled with conflicting cries: 'Be quiet.' 'Let the lady speak.'"
Eventually, Liberal stewards and plain-clothes policemen dragged them from the hall and flung them out of the building where they attempted to address the crowd before being arrested.
The two women appeared in court the next day charged with disorderly behaviour and obstructing the footpath and carriageway. Pankhurst was also charged with assaulting the police, although she described it as a protest against the legal position of women.
"We cannot make any orderly protest because we have not the means whereby citizens may do such a thing: we have not a vote; and so long as we have not votes we must be disorderly. There is no other way we can put forward our claims to political justice."
They were fined but refused to pay. Pankhurst was sentenced to seven days in prison and Kenney to three. They were placed in the third division, wearing prison dress and eating prison food.
The ILP's Keir Hardie telegraphed his support: "The thing is a dastardly outrage, but do not worry, it will do immense good to the cause. Can I do anything?"
Billington co-ordinated protests against their imprisonment and issued a statement to the press. On their release a great crowd greeted them.
On 20 October both women addressed a crowded meeting in the very hall from which they had been ejected a week earlier. Hardie was the main speaker, while Billington read out the large number of telegrams and letters they had received, including one to Mrs Pankhurst from ILP chair Philip Snowden and his wife, Ethel: "We are writing not to sympathise with you, but congratulate you on being the mother of such a brave and devoted daughter. We are all proud of her and her friend Miss Kenney."
Hannah Mitchell was among those who joined the crowd at Strangeways to greet Pankhurst and Kenney, and she now committed herself body and soul to cause of women's suffrage, later reflecting that "all my previous life had been a preparation for this great experience".
Early in 1906, during the general election campaign, she interrupted a meeting addressed by Winston Churchill (then a Liberal) in St John's school, Deansgate, an incident she described in The Hard Way Up:
"When the meeting commenced I waited anxiously for Mr Churchill to be well under way with his speech: then I rose and displayed my little banner, calling out; 'Will the Liberal government give the vote to women?' At once the meeting broke into uproar, shouting 'Throw her out!' along with less decent suggestions. My banner was snatched from me, and clutching hands tried to pull me over the seat, but I was young then, and strong, and pushing my assailants away I mounted the seat, held up my second banner, and repeated the question.
"The chairman seemed unable to do anything, except to make wild gestures of rage, so Mr Churchill himself took a hand… With his usual forcefulness he induced the meeting to give order and invited me to state my case. In spite of my agitation I did so, saying briefly that we wanted the promise of a government measure granting the vote to women, 'as it is' or 'may be' granted to men."
With Alice Milne, Mitchell later interrupted a meeting addressed by Lloyd George at Hale. Instead of being thrown out they were kept in the hall until the meeting was over and then had to walk seven miles to Milne's home after the last train had gone. On election day Mitchell joined with other WSPU members in picketing the town hall where voting  was underway, arguing with the men going in.
With the Pankhursts and Kenney spending more and more time away, Mitchell was often called upon to deputise for one or the other at speaking engagements in the north. In the summer of 1906 she was arrested after interrupting a Liberal party rally at Belle Vue at which Churchill and the former socialist and dockers' leader, John Burns, were the star speakers. The magistrates fined her but she refused to pay and was therefore sent to prison for three days. She was released early, much to her great annoyance, after her husband paid her fine.
"He knew that that we did not wish our fines to be paid, and was quite in sympathy with the militant campaign, but men are not quite so single minded as women are; they are too much given to talking about their ideals, rather than working for them. Even as socialists they seldom translate their faith into works, being still conservatives at heart. Most of us who were married found that 'Votes for Women' were of less interest to our husbands than their own dinners. They simply could not understand why we made such a fuss about it."
The women continued the agitation, although outdoor meetings were becoming rougher and more dangerous. The suffragettes on occasions gave as good back. When Mitchell was assaulted by a group of men at a meeting at Boggart Hole Clough she sent two of them flying down a slope and hit another on the jaw with her umbrella. She and the other speakers, including Adela Pankhurst and Hardie, had to seek temporary sanctuary in a nearby house and then make their escape on a tram as local youths flung cabbages at them.
Although not always in agreement with them, ILP members often protected the WSPU speakers from attack. "Perhaps we owed most gratitude to the ILP," writes Mitchell, "for even when they strongly disapproved of militancy, they would lend us their platforms and stand by to protect us from the hooligans.
"We could always rely on the local ILP to form a sort of bodyguard. They did not all approve of us, but as socialists they had some experience of the hooligans, and came to see that the women got a fair hearing."
That autumn Mitchell paid her first visit to London, speaking in a number of parks and taking part in a raid on the lobby of the House of Commons. She went up to Huddersfield to campaign during a by-election and then onto Oldham, the north east, and elsewhere.
War and peace
The constant travel, speaking and organising took its toll on her health. Mitchell collapsed with exhaustion during the campaign to elect the independent socialist, Victor Grayson, as MP for Colne Valley, and suffered a nervous breakdown. It took her a long time to recover. She was deeply hurt by the fact that the Pankhursts did not show any interest in her illness, not even a letter of sympathy. By contrast Charlotte Despard came to visit, spoke to her doctor and sent money to help with extra food.
The WSPU eventually split in the autumn of 1907 after Emmeline and Christabel Pankhurst abolished its democratic structures and appointed themselves leaders. A group of about 70 women left the WSPU and established the Women's Freedom League which Mitchell joined as soon as she was well enough and later worked for, briefly, in Scotland and then in Manchester, where she now lived. She arranged a great procession in Alexandra Park and spoke at meetings.
In April 1914, she attended the ILP's 'Coming of Age' 21st anniversary conference in Bradford. Within weeks, Europe was at war, but Mitchell remained true to her socialist beliefs and opposed the conflict, becoming active in the No Conscription Fellowship, which opposed compulsory conscription and supported conscientious objectors, and in the Women International League for Peace and Freedom, which called for a negotiated end to the war.
Her son decided that he could not fight and applied to the conscientious objectors tribunal. To his mother's great relief, he was granted exemption. On 22 July 1917 she was one of the speakers at a women's  peace meeting, held in Stevenson Square.
In 1924 Mitchell was elected to Manchester City Council as an ILPer and remained a member until 1935. She particularly enjoyed being on the libraries committee because of her love of reading. She was also on the baths committee, which established public wash houses in working class areas – "a real public service greatly appreciated by women", she said.
In the 1920s and 1930s she wrote short stories and other pieces which were published in journals such as Labour's Northern Voice. She also became a magistrate.
She had been working on her autobiography for many years but it was not accepted for publication until long after her death. It was found among her papers and finally published in 1968 with an introduction by her grandson Geoffrey Mitchell, who edited the manuscript. It is now considered a classic account of a working class woman's quest for personal and  political liberation.
—-
Michael Herbert is author of Up Then Brave Women: Manchester's Radical Women, 1819-1918, published by the North West Labour History Society. It can be ordered online from Naomi Symes Books or by post for £9.95 from Pat Bowker, 1 Bedford Road, Salford M30 9LA. Cheques payable to North West Labour History Group.
He is a trustee of the Working Class Movement Library in Salford and runs Red Flag Walks, a series of history walks around Manchester city centre, focusing on its radical past.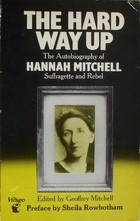 Hannah Mitchell's The Hard Way Up: The autobiography of Hannah Mitchell, suffragette and rebel, was published by Virago but is currently out of print. The Hannah Mitchell Foundation are looking at the possibility of republishing it.