The International Brigades Memorial Trust is holding a special event to mark the 75th anniversary of George Orwell's Homage to Catalonia.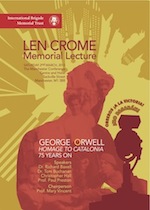 The Len Crome Memorial Lecture, 'George Orwell: Homage to Catalonia 75 Years On', will be held on Saturday 2 March 2013 at the Manchester Conference Centre.
The day will include discussions on May Day and the British battalion, the reception and impact of Homage to Catalonia, and the other ILP volunteers. Speakers include Dr Richard Baxell, Professor Paul Preston, Dr Tom Buchanan and Chris Hall while Professor Mary Vincent will chair the event.
The conference costs £10, or £25 with refreshments and lunch (concessions available).
Further information from:
Hilary Jones: hilary.m.jones@btinternet.com; 0161 224 1747
Dolores Long: doloreslong@fastmail.fm; 0161 226 2013
The IBMT are also releasing a new CD featuring singer Billy Bragg and actor Maxine Peake to salute the anti-fascist volunteers of the Spanish Civil War.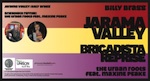 Bragg performs 'Jarama Valley', the famous song of the British battalion, and on 'Brigadista Reprise' Peake delivers La Pasionaria's emotional farewell speech to the International Brigades over a dub backing track by The Urban Roots.
The CD is available exclusively from the IBMT and can be ordered for £5 plus £1.99 p&p. Go to the IBMT merchandise page to order.
—-
The International Brigade Memorial Trust was formed in 2002 from the veterans of the International Brigade Association, the Friends of the International Brigades Association, representatives of the Marx Memorial Library, and historians specialising in the Spanish Civil War.
For more information go to: http://www.international-brigades.org.uk/