Over 200 people assembled at the Manchester Conference Centre on Saturday 2 March to take part in the annual IBMT (International Brigade Memorial Trust) Len Crome Lecture. The title of the day's conference was 'Homage to Catalonia 75 years on'. CHRISTOPHER HALL reports.
Peter Crome, son of Len Crome, a leading doctor in the International Brigades, began the conference with a brief talk about his father before the chair, Mary Vincent, introduced the first of day's four speakers, Richard Baxell.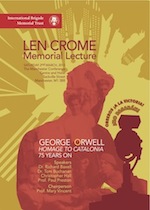 He talked about the effect of the May Day events on the British Battalion of the International Brigades and was followed by IBMT secretary Jim Jump who read a paper by Paul Preston, who was unwell and could not attend. His paper looked at the general importance of Orwell's book.
Debate after each speaker was lively, although respectful, with many divergent opinions from the libertarian to old school Communist and much in between.
After dinner Orwell's adopted son Richard Blair and Quentin Kopp, son of Orwell's commander in Spain, George Kopp, were introduced to the conference and delivered well received speeches about the Orwell Society.
Tom Buchanan then talked about the impact of Orwell's book, before I spoke about Orwell's fellow volunteers in the ILP contingent and quoted from my new book on the ILP volunteers, In Spain with Orwell. The day ended with an hour-long plenary session where many interesting insights were made by the audience and many probing questions asked.
The room was festooned with images from the Spanish Civil War, including POUM and ILP banners, while the plaque honouring the ILP volunteers who fought in Spain was also on display.
Some people's views on the war will never change, but one son of an International Brigader who heard my talk asked me a very simple question: "So the lads who went to fight with the ILP were no different from our lads?"
"Yes," I replied.
—-

Christopher Hall's book 'Not just Orwell': The Independent Labour Party Volunteers and the Spanish Civil War was published by Warren and Pell, in May 2009.
His new book, In Spain with Orwell: George Orwell and the Independent Labour Party Volunteers in the Spanish Civil War, 1936-1939, is £11.25 from Tippermuir Books Limited. Email: tippermuirbooks@blueyonder.co.uk
See also: 'Not Just Orwell'