Merely denouncing 'One Nation Labour' as more of the same is a political cul-de-sac, argues MATTHEW BROWN. We need to recognise some genuine attempts to rethink the left's project and engage with the best of their ideas.
"Sooner or later any campaign or movement for change in society has to deal with the process of government, how collective decisions, whether national or local, are made and upheld." So says the ILP's statement, Our Politics, agreed little more than two years ago at the organisation's Weekend School in May 2011.
It goes on: "Actions by national governments have a vital and potentially crucial role in addressing many of the problems we face, whether nationally or, by acting collectively, internationally.

"In Britain, that means we have to engage with the Labour Party… Any attempt to progress radical change will have to go through a social democratic agency.

"However, we have no illusions about the current political and organisational state of the party, about the corrosive effects of New Labour's dominance over 16 years. Now is a time for the Labour Party to reflect upon its record in office, to see whether it can present a credible narrative for progressive change. It has a long distance to travel to win back public trust."
Quite how big that gulf in trust has become was apparent at this year's Weekend School less than two months ago when ILPers and friends had their first opportunity to "engage with" current Labour Party thinking as it's beginning to emerge through the One Nation concept revealed by Labour leader Ed Miliband at his conference speech last September, and since referred to in many articles, speeches and comments by figures in and around the Labour leadership.
One of those key figures is Jon Cruddas, MP for Barking and Dagenham and coordinator of Miliband's policy review process. The format agreed for the school was to use one of Cruddas's speeches to kick off a discussion about the ideas behind the One Nation Labour label, to consider what, if any, philosophy it rests on, and what kind of political approaches and policies it may lead to.
The speech chosen was one Cruddas gave in February at the launch of a new project by the Institute of Public Policy Research, called 'The Condition of Britain'. This was not intended to be representative of everything that's been said about One Nation Labour or the policy review, nor even to epitomise the approach. Indeed, it was chosen partly because there was an accessible recording of the speech which would help provide a focus for thinking alongside the words on the page. Or so it was thought.
Cruddas has said and written a lot since Labour's 2010 election defeat, not just about the policy review, but also about what he sees as the longer-term roots of Labour's problems and, in particular, some of the 'lost' traditions of left-wing thinking that were once part of its make-up – around community, self-help, co-operation, local identity, and grassroots campaigning. Indeed, he has expressly spoken of the early ILP as embodying some of this "romantic" socialism, which he believes was subsequently buried under the more "rational" seam that later became embedded in Labour's state-centred social democracy.
Among the growing range of other material available on the One Nation theme are various speeches and quotes by Miliband, articles by Labour thinkers such as  Jonathan Rutherford, interviews with Maurice Glasman, and an e-book published by the Labour List website and edited by Cruddas himself.
It was hoped, even expected, that most of those attending the Weekend School would have been familiar with these significant developments in the Labour Party and so would bring with them some background knowledge and thoughts. In the event, the discussion focused closely (although not always accurately) on the particular speech which everyone had in front of them and, in retrospect, perhaps that's not surprising.
What was surprising, however, was the tone of hostility and distrust that soon emerged in the following discussion, an outpouring of anger that seemed as much to do with pent-up frustration at the record of the New Labour government, and the direction it took the party, as anything to do with the current leadership or Miliband's One Nation initiatives. Perhaps such bitterness towards Labour is one of the legacies of "the corrosive effects of New Labour's dominance over 16 years", and in that sense is understandable, if not particularly helpful.
Wider issues
Many of the specific criticisms expressed in that debate have been captured in a more measured way by John Halstead and Ernie Jacques in their pieces for this website, and many of the points they make are perfectly valid and well-argued.
However, there is still a need to address some of the wider issues which never had a chance to emerge in that session, deeper difficulties that Labour, – and any movement for social change – has to confront, ones that some of those behind the One Nation concept may, perhaps, at least be trying to grapple with.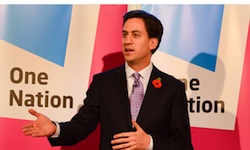 Some of these problems the ILP has long been pointing out, not only to Labour leaderships but also to the left. We have always argued that, while it is vital to engage with a social democratic Labour Party, we cannot abandon "any hope of a changed world" and merely surrender "to the politics of the present and the next election".
On the other hand, we've always said it's futile to follow some on the left and "promise a glorious dawn in some unimaginable future with no sense of how to get there", other than demanding more radical leaders and policies as if people will automatically support them whatever the consequences.
What's made us distinct from much of the left has been a clear-sighted recognition of the pitfalls to progress in a conservative world, those opposing forces that make such automatic support for left ideas unlikely. Therefore, we've been able to acknowledge the obstacles that confront even a mildly social democratic Labour Party in winning approval for progressive measures.
These difficulties are created not just by the present "dire economic circumstances", which Ernie acknowledges, the "intractable problems" for any government operating in the post-crash world – of dealing with the deficit, managing cuts, handling a shrinking budget, and so on.
They are problems not just of the neoliberal economy, but of what Soundings founding editor Doreen Massey calls the neoliberal "commonsense", the "ideological scaffolding" around free-market capitalism that's become so normal, everyday and internalised that it not only moulds our understanding of society and the economy, but shapes how we imagine ourselves and characterise our social relationships.
In her recent Soundings article, 'Vocabularies of the Economy', the first instalment of the so-called 'Kilburn Manifesto: After Neoliberalism?', Massey argues that "the vocabulary we use, to talk about the economy in particular, has been crucial to the establishment of neoliberal hegemony". This vocabulary, "of customer, consumer, choice, markets and self interest moulds both our conception of ourselves and our understanding of and relationship to the world," she writes.
"The new dominant ideology is inculcated through social practices, as well as through prevailing names and descriptions. The mandatory exercise of 'free choice' – of a GP, of a hospital to which to be referred, of schools for one's children, of a form of treatment – is, whatever its particular value, also a lesson in social identity, affirming on each occasion that one is above all a consumer, functioning in a market.

"By such means we are enrolled, self-identification being just as strong as our material entanglement in debt, pensions, mortgages and the like. It is an internalisation of 'the system' that can potentially corrode our ability to imagine that things could be otherwise… Everything begins to be imagined in this way."
Political work
However, Massey is careful to point out that this is cultural, and therefore political; that neoliberal commonsense is neither natural nor fixed, nor was it an inevitable result of the sweeping triumph of free-market economies over the last four decades. It took "political work" to establish – by the right and their cultural agencies in the media and elsewhere – and therefore it can be challenged and changed.
Massey's aim, along with her Manifesto co-authors, Michael Rustin and Stuart Hall, is to begin the political work needed on the left to claw back some of the lost ideological ground. In their "framing statement", published in May, they said: "Our purpose is to set out an agenda of ideas for a progressive political project which transcends the limitations of conventional thinking as to what it is 'reasonable' to propose to do. We will try to open a  debate which goes beyond matters of electorable feasibility, or of what 'the markets' will tolerate."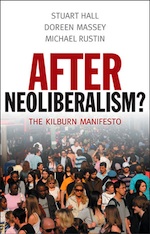 What is not clear from the material published so far (the manifesto is being revealed in five instalments over the coming months) is where, if anywhere, they see the Labour Party in relation to such a project, either in its current One Nation state, or as a potential vehicle for social change in the longer term.
Indeed, they are – as so many of us are – critical of its timidity in opposition, saying: "It has been rendered speechless by the charge that it opened the door through which the Coalition is triumphantly marching. It seems unable to draw a clear line in the sand: a political frontier… to enunciate an alternative set of principles, to outline a strategic political approach, or to sketch out a compelling alternative vision." How true.
However, they also acknowledge that: "Electoral change is urgent, critical and necessary", adding that "it will not change much if it means a continuation of the existing assumptions under a different name".
Perhaps One Nation Labour will be merely "a continuation of the existing assumptions", "'more of the same' new Labour propaganda", as Ernie puts it. After recent speeches by Miliband and Ed Balls on spending and welfare cuts, and by Stephen Twigg on education, there are doubtless many who have already decided that's exactly what the One Nation 'brand' of Labour amounts to.
But, if you listen carefully, there is potentially some correspondence between what Cruddas and co are saying and the thinking of the Kilburn Manifesto crowd. In his IPPR talk, for example, Cruddas said, "we have introduced markets and financial transactions into areas of life they do not belong", and talked of the need to move "beyond the old answers", just as Hall, Rustin and Massey talk of the need to call "the neoliberal order itself" into question while also stating that "this is not a question of restoring the tried remedies of the post-war welfare state settlement".
Both, it seems, are grasping after something new.
In fact, the connections between the two currents of thinking may be even closer. Cruddas and Rutherford (former Soundings editor, part of Miliband's advisory team), cited ideas associated with the New Left – the tradition from which Hall, Rustin and Massey all come – in their 2010 paper on 'Ethical Socialism'. And last summer a conference to explore "the New Left as a source for Labour's ideological renewal" was held in London with Rutherford, Rustin, Cruddas and Glasman among the speakers.
Three of those conference papers have recently been published in the journal Renewal, whose guest editor, Madeleine Davis, wrote in her introduction: "Thinkers of 'One Nation Labour' are right to sense the enduring value of the New Left's attempt to root a revitalised left project in contemporary English culture and society, and right to see in the democratic, humanist and communitarian emphases of the early New Left a valuable 'road not taken', worth renewed exploration."
How far those "democratic, humanist and communitarian" values end up influencing Labour policy and direction remains to be seen. But it seems churlish to ignore the fact that some attempt is being made to "transcend the limitations of conventional thinking", and to move "beyond the old answers".
As Cruddas put it in his IPPR talk: "For 30 years British politics has been dominated by the market and the state. But we do not live by the managerialism of the state nor by the transactions of the market. We live in families and relationships and networks of friendships in local places."
This could be merely "motherhood and apple pie", as John calls it. Perhaps it is. But maybe we should take it at face value and accept that there are at least some around the current Labour leadership who are trying to think in new ways about some devilishly difficult problems.
That doesn't mean we will necessarily like the answers they come up with (we rarely do), but 'engaging' might at least give us the chance to talk, even to be heard.
Finally, let's go back to that quote from Our Politics at the start of this article. The sentence missed out, where there's an ellipses in the second paragraph, is this: "While many on the left wish to avoid the Labour Party, to denounce or live outside it, we think this is a cul-de-sac."
We still do.
—-
See also: 'The Condition of Britain: A Response to Jon Cruddas', by John Halstead, and 'The Condition of Britain: The Debate Goes On' by Ernie Jacques.
The speech by Jon Cruddas at the launch of the IPPR's 'The Condition of Britain' project can be read here.
More about the Kilburn Manifesto is available here, including the framing statement, 'After Neoliberalism: Analysing the Present', and Doreen Massey's 'Vocabularies of the Economy'.
Some papers from the edition of Renewal on 'The Labour Party and the New Left' are available here.
A report of the ILP's 2013 Weekend School is here.
Our Politics, the ILP's political statement agreed in May 2011, is here.