BARRY WINTER remembers Arthur Raistrick, the writer, geologist, pacifist, educator and ILPer who became the 'Dalesman of the Millennium'.
Arthur Raistrick was born in 1896 into a working class family in the model industrial village of Saltaire in Yorkshire. His mother, Minnie, together with other relatives, worked at the famous Salt's textile Mill. His father, George, was an engineer and a socialist.
George was a founder member of the ILP and many well-known ILP speakers stayed at their home. He took the young Arthur with him when helping to build the Nelson ILP Clarion House, a journey of over 20 miles. They would travel there and back on foot.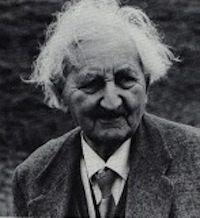 Arthur's family came from the Dales and were employed in farming and lead mining. His four grandparents came from four different Dales. Visiting his many cousins and half-cousins there in the school holidays could be quite a trek. To reach Swaledale in the north, he had to travel some 50 miles, "rough sleeping out of doors", as he said, or in barns along the way.
Together with his ethical socialism, walking, engineering, mining, the Dales landscapes and an abiding affection for its people were to animate the rest of Arthur's long and productive life.
After he left school he became an engineering apprentice at Shipley Electric Works and also attended evening classes. But the Great War, as it was known, intervened. Arthur was an ardent pacifist, so in 1915 he gave up his apprenticeship and, together with his uncle, addressed numerous anti-war meetings across the north, experiencing his share of rough handling – "but we didn't mind", he later declared.
Being of military service age, the two were arrested for refusing to enlist and Arthur was imprisoned for three years, from 1916 until September 1919, first in Wormwood Scrubs and later in Durham jail. "It was hard," he said, "but you learned to adapt to it."
By then he had also joined the Society of Friends and later wrote various publications about the role played by Quakers in science and industry.
On his release, Arthur studied civil engineering at Leeds University, followed by an MSc and PhD in geology, on the configuration of coal seams. Despite his qualifications, his prison record made the search for full-time work very difficult. As he put it: "I was unemployable under that curious regulation against conscientious objectors."
So he coped by securing occasional research grants and undertaking short-term mining contracts on pit safety. "I worked for many years underground in collieries all over the country studying abnormalities in coal seams," he said.
In the evenings he taught adult education classes for both the Workers' Educational Association and Leeds University's extra-mural department, both jobs he continued for another 50 years.
Eventually, in 1929, he secured a full-time lectureship in applied geology at what became part of Newcastle University. There he met Elizabeth, a noted historian and fellow Quaker, and they married a year later.
None of this reduced his political commitments. According to the Dictionary of National Biography: "During the depression of the early 1930s, for example, he toured the stricken south Wales coalfield, speaking at miners' welfare clubs and visiting camps for the unemployed."
In 1939, Arthur was associated with establishing the monthly Yorkshire Dalesman, usually shortened to The Dalesman, and he wrote for it regularly and extensively for decades.
War once more
However, once again war was to impact upon his life. As one of the founders of the Pacifist Advisory Bureau for the north, he refused to engage in military research for the university. As a result he was suspended without pay for the duration of the war.
To survive, Arthur and Elizabeth moved to the small village of Linton in Wharfedale. There he converted a large barn into a home and gave WEA classes. He also grew much of his own food. He would leave any surplus on needy neighbours' doorsteps. But although they took the food, some never spoke to him because of his pacifism – even decades later. Being Arthur, he took it all in his stride.
After the war, he was reinstated to his lecturing post and later became a Reader. He is credited with founding industrial archaeology as an academic discipline.
Among his other activities he was to become president of both the Ramblers' Association and the Holiday Fellowship, the co-operative outdoor holiday provider. In addition, together with his great friend John Dower, he contributed much to the founding of the National Parks in England and Wales, particularly in Yorkshire. He served for many years as a ministerially-appointed member of the West Riding Committee of the Yorkshire Dales National Park Committee and campaigned for wider access to the moorland.
He wrote extensively about the Dales and the rural north east, his interest less in producing academic studies than in communicating with people in general – hence his Teach Yourself Geology written during the war.
As he put it: "I was at first so shocked that the local people didn't know their own district in detail – and they ought to – and then to find how delighted they were to hear about its history, natural history and industrial history."
With some friends, he began to excavate the now famous industrial museum and world heritage site in Coalbrookdale in Shropshire. However, when it came to the official opening Arthur was not invited because, as a Quaker, he would not bow before the royal visitor (although he promised to be courteous). That he was deemed unfit to attend was ironic because the Darby family, who set up and ran the iron mill, were Quakers themselves.
Undaunted, he and his mates found a way in through an unlocked back door and politely greeted the royal visitor anyway. Later, he played a part in developing the Beamish open air industrial museum near Chester-le-Street in the north east.
In 1974, the prime minister, Harold Wilson offered Arthur an OBE. He replied:
"As a lifelong member of the Independent Labour Party I have frequently spoken against the system of the honours list. I feel that I cannot at this time break my principles and accept the prime minister's suggestion. My thanks for the thought so expressed are no less sincere and I shall value this gesture more than I could value the honour itself."
Elizabeth had died the previous year but Arthur continued with his regular routine: rising at dawn, studying and writing, and going to bed as it went dark. He undertook work for Bradford University but declined their offer of a fee, seeing such activity as part of his civic duty. Eventually a compromise was reached and a team of volunteers regularly visited his garden to assist with its upkeep as by now Arthur was getting less mobile.
At his invitation, Leeds ILP used to have an annual picnic in his garden, always a pleasure, and we formed a strong bond with him. It was a privilege to have met him, always courteous, never bitter, modest and good-humoured.
Arthur died in 1991 aged 95. The Yorkshire Dales Society of which he was a founder member, declared him 'The Dalesman of the Millennium'. They also installed a limestone bench in the meadowland picnic area of Grassington to commemorate his life and work – both fitting tributes.
Arthur, Houdini and the Bradford Lock

When the world-famous escapologist, Harry Houdini, the self-styled 'Handcuff King', was visiting Bradford in 1901, he challenged his audiences to find a means of restraining him.

William Fenton, local cycle-maker and locksmith, presented the performer with a 150-year-old lock that had long been in the family. The illusionist took a careful look at it and declined the challenge. Thirteen years later, at another packed performance, he did so again.

When this tale was being told at a WEA 'gang night' in the late 1970s, the speaker pointed out that the lock had jammed. Some moments later there was a whirr and a click and the lock was opened without a key – by Arthur.

Asked to explain how he had managed it, Arthur replied: "When I was in Wormwood Scrubs in the First World War, I was given the job of repairing door locks and I was asked to repair the one on the main gate which was of the same type – so easy!"

He never told anyone how he had done it, however.
—-
Some of the direct quotes in this article come from a recorded conversation between Arthur Raistrick and Ken Howarth of North West Sound Archives, part of which appears in Arthur Raistrick's Yorkshire Dales, compiled by David Joy and published by Dalesman Books (1991).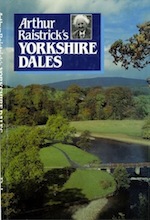 Others are taken from the Dictionary of National Biography; 'Houdini and the Bradford Lock' by Eugene Nicholson, in The Dalesman, May 2013; and Barry Winter's personal conversations with Arthur.
We have reproduced two extracts from Arthur's writings here:
'Life in the Lead Mines', from the 1973 Yorshire Annual;
'The Thorn Tree', from Arthur Raistrick's Yorkshire Dales, compiled by David Joy, Dalesman Books (1991).