FRANK MEERES reveals how the daughter of a famous builders' merchant from Norwich became a suffragette and ILPer, and one of the Labour Party's first women MPs.
Dorothy Jewson was born on 17 August 1884 – she was christened Dorothea but used the form Dorothy in her political career. She was the daughter of George and Mary Jewson of Braemar, on the Thorpe Road in Norwich.
Her father was head of the well-known builders merchants' business, and when Jewson was in her teens the family moved into an even grander house, Tower House in Bracondale. She was educated at Norwich High School for Girls, which was then in the Assembly House.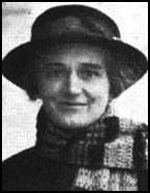 In September 1903, when she was 19 years old, Jewson went to Cheltenham Ladies' College to prepare for the Cambridge Higher Local exam (roughly equivalent to an A Level). In fact she did not take the exam but in September 1904 went on to Girton College in Cambridge, where she gained a BA. While she was at Girton, Jewson became a member of the Fabian Society, but she soon found the Fabians too moderate for her tastes, and joined the Independent Labour Party.
After leaving Girton in 1908, Dorothy became a schoolteacher, first at a girls' boarding school, West Heath School, Ham Common, Kingston in Surrey, then, from 1911, in a former Board School in Norwich.
At this stage in her life, Jewson was less interested in Labour politics than she was in the struggle by women to gain the vote. She joined the Women's Social and Political Union, the militant suffragette group led by the Pankhursts, on her return to Norwich in 1911. She worked for women's suffrage rather than for socialism "believing the former to be an essential step to the latter".
Jewson's name occurs frequently in reports of activities in Norwich in support of women's suffrage. She helped organise a big meeting on Norwich Market Place on Sunday 28 July 1912 when her brother, Harry, presided at one of the two platforms.
On 5 December 1912 she provided the entertainment at a reception at the Thatched Assembly Rooms, a duologue called 'A Chat with Mrs Chicky'. This, said the Suffragette, "was very much appreciated".
She was one of about 20 women thanked in the same paper in February 1913 for her help in organising jumble sales and a stall in Norwich Market Place: other helpers included Miriam Pratt, a Norwich school teacher. When Pratt, as a militant suffragette, set fire to two empty buildings in Cambridge in May 1913, the Jewsons came to her aid: Harry put up the bail while Dorothy organised her defence fund.
Pacifist and MP
The First World War marked the second stage of Jewson's life in politics. As a pacifist, she was of course instinctively opposed to the war. This must have caused some strain in her family and in her own heart: her brother Harry, who had supported her suffrage campaign, was killed at Gaza on 19 April 1917. She left the Pankhurst circle, which was strongly pro-war.
Jewson moved to London and became associated with another group of women, including Margaret Bondfield and Susan Lawrence, who were dedicating their lives to improving the lot of women through trade union work, rather than the ballot box.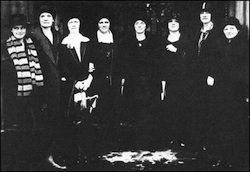 It was as a result of this experience that she was chosen to stand for the Labour Party in Norwich at the 1923 election and was elected, one of eight women elected to this parliament (see picture, left). Three of them were Labour MPs – Jewson, Bondfield and Lawrence – Labour's first three women MPs. Along with the Liberal Lady Terrington, also elected in 1923, they were also the first women MPs to be elected without 'inheriting' their seats from a husband.
Jewson was a very active MP, speaking mainly on women's and family matters. However, she was defeated at the following election, in 1924. Bondfield and Lawrence were also defeated in the 1924 election, but both later got back into parliament and became ministers: Bondfield became Britain's first female cabinet minister in 1929.
If Jewson had got back into parliament, she too would probably have achieved government office. However, for her there was to be no return to Westminster: she stood several more times in Norwich, but had no success. Always on the left of the party, she stayed with the ILP when it split from the official party in the 1930s.
From 1927, Jewson was involved in local politics as a Norwich city councillor, serving on the council for nine years, taking an interest in issues such as housing and unemployment.
After her political career was over, Jewson married Richard Tanner Smith in 1937. They moved to his home at Goodmayes in Essex and Jewson was to take no further part in political life.
Tanner Smith died in July 1939 and in 1945 she married Campbell Stephen, an ILP MP. Stephen rejoined the Labour Party a short time before his death in Glasgow in October 1947.
In later life Dorothy lived for several years at Orpington in Kent, her last months spent in Lower Hellesdon, in a cottage in the grounds of her brother Christopher's house. She died there on 29 February 1964 at the age of 79.
—-
This article was orginally published by Norwich Heritage Economic and Regeneration Trust (HEART) in July 2010. Many thanks for permission to reproduce it.
Sources:
Articles in the Times, Eastern Daily Press, The Suffragette, and others
Oxford Dictionary of Biography
Socialism and the Family; a plan for family endowment, by Dorothy Jewson, ILP Publication, not dated
Memories, Milestones and Miscellanies: 125 Years of Norwich High School edited by Alan Brodie and Sheila Upjohn