RAE STREET unveils the life and work of Enid Stacy, a young woman from Bristol whose contribution to the spread of early socialist ideas has often been overlooked.
To understand how Enid Stacy, a young woman in Victorian society, became an active socialist and anti-war activist against the Boer War, we need to look at her family and the ambience of her youth.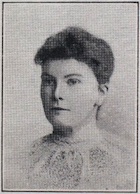 Stacy spent her early years in Weston super Mare where her father was principal of the newly formed art college. She did not have a stuffy childhood – she and her sisters and brothers scared people by walking on the parapet of their Victorian house. They went out with the fishermen and swam in what, even today, would be viewed as quite dangerous conditions. Her father had become a convinced socialist and their house was open to visitors from many different backgrounds who also espoused socialism.
They entertained visiting socialists on an even more regular basis when the family moved to a Victorian villa in the Bristol suburb of Clifton. We don't know why the family moved, but we can guess that it was partly so they could be closer to the many societies and groups that were growing in the city, such as the Bristol Socialist Society formed in 1886.
Their visitors included Edward Carpenter, the poet and socialist William Morris, George Bernard Shaw, and many more. The girls often entertained the visitors by singing and folk dancing which was closely linked to the new movements.
The move served Stacy well. Clifton already had a high school for girls and the neighbouring suburb of Redlands had liberal-minded citizens determined to follow suit. Redlands High School was established to provide girls with education, not for pastimes such as needlework and piano lessons, but to prepare them for higher education.
The family recognised Stacy's talents and scraped money together to pay the fees so she could join the new school. A few years later she became one of the first two girls to win a bursary for higher education. As women couldn't then enter the local university, Stacy had to go to University College Cardiff, where she graduated with a BA Honours degree. Her name remains one of the first two on the honours board of Redlands school.
At the school Stacy met a young teacher called Katherine St John Conway (later Katherine Glasier Conway) who introduced her to more socialist ideas, and when she returned home from Cardiff she soon became involved in meetings about the rights of working people, especially women.
Women's strike
Inspired by Miriam Daniel, women workers at the local sweet factory went on strike after the owners of the factory annouced a cut in wages and longer hours. The women already worked long hours and were locked inside the factory until nightfall.
Stacy joined the organising committee and then became its secretary when Daniel decided to emigrate to the USA with her friend Helen Borne. She worked intensely hard and helped the women campaign. They would parade around the city in white clothes, and on Sundays sat at the back of the church where the factory owners worshipped.
Their non-violence and quiet but determined public demonstrations won them sympathy with the public. It was said they gained more money in donations than they would have earned in wages. In the end they agreed to return to work, but Stacy and her fellow organisers declared it a victory.
Stacy had been working as a school teacher but was now sacked. She found it difficult even to get private coaching work in Bristol so she and Conway decided to join a new venture – a colony to be established in the Lake District, at Starnthwaite outside Kendal.
She travelled north to join friends who had already gone with high hopes of establishing a community where everyone shared the chores and the gardening, grew their own food and joined in activites together. However, the reverend who had started the commnune had other ideas and he decided to evict them. When they wouldn't leave, the police were called and Stacy was one of the strongest resisters. In the end they realised their principled ideas had been undermined by the duplicitious vicar and left.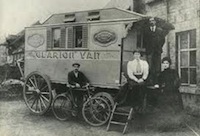 Stacy had already discovered a talent for public speaking and she soon joined groups travelling with the Clarion Van to bring socialist ideas to working people. First-hand records suggest she possessed an unusual ability to speak to working men and women and hold their interest, sometimes for up to two hours in the open air. She could put up with the grimmest of conditions – sometimes the Vanners didn't even know if they would have a bed for he night, and were frequently caught in the cold and wet. Stacy seems to have been remarkably strong, physically.
She was a voracious reader too and was inbibing many new ideas. It wasn't long before she joined the Independent Labour Party while she was also friendly with people in the Social Democratic Federation and the Fabian Society, of which George Bernard Shaw was a member.
There were many differences between the SDF and the Fabian Society, and in 1886 the Fabians did not often come forward as open air speakers whereas the SDF speakers, including John Burns, Henry Hyndman, Tom Mann and Stacy were "at it constantly". There is evidence that the SDF members sneered at the Fabians as "fops and armchair socialists". Stacy developed her own strong ideas on issues such as education, women's rights and public social services, but new issues arose in the 1890s.
Maelstrom of debate
Before the Boer War began in 1899 the Fabians had paid "little or no attention to foreign or imperial questions". These Fabians were supported by 'liberal imperialists' and the prospect of war in South Africa sharpened divisions in the Liberal Party. Gladstone took up the cause of the Boers and the Fabians had to make a choice. Their leaders, including Shaw and Beatrice and Sidney Webb, plumped for imperialism. Shaw looked forward to "a British victory", but spoke of a "lofty and public spirited imperialism".
A poll was taken at a Fabian Society meeting and the result was 259 for the Shaw and Webbs view and 217 for the anti-imperialists. Figures such as Ramsay Macdonald, Walter Crane and Emmeline Pankhurst resigned. Hyndman and the ILP's Keir Hardie shared the views of the 'Liberal anti-imperialists', Hardie speaking of them as "a class conscious and egalitarian doctrine".
On the other hand, Robert Blatchford, editor of the Clarion newspaper, who purported to be a man of the people, stated, "I love the army". He said: "Imperialism lives by deeds while the peace palaver is all words." He heaped scorn on the 'Cobdenites' (referring to Richard Cobden and John Bright of the Anti-Corn Law League, who had opposed the Crimean War) and he "joshed the socialists".
This was the maelstrom of debate about the war which Stacy was living through. With characteristic clarity of thinking, she took the view of the anti-imperialists and was against the war altogether.
In 1896, talks began between Hardie and Bruce Glasier of the Scottish Social Democratic Federation, and the miners' union leader, Robert Smillie, who was chair of the newly formed Scottish Trade Union Congress. These talks led to the Scottish Labour Party, and when delegates voted to select the national committee, Stacy was second only to Fred Brocklehurst, with Pete Curran, Caroline Martyn and Richard Pankhurst all receiving fewer votes than her.
The conference ended with them singing for the first time, and no doubt with feeling, Edward Carpenter's words:
"Over your face a web of lies is woven,
Laws that are falsehoods pin you to the ground,
Labour is mocked, its just reward is stolen,
On its bent back sits Idleness encrowned.
How long, while you sleep,
Your harvest shall it reap?
Arise, O England, for the day is here.
Over your face a web of lies is woven."
At the massive public meeting in Albert Hall, Stacy spoke with Hardie, Mann and Brocklehurst before embarking on a busy summer tour of lectures, debates and public meetings. Within days of the conference she was in London speaking from one of the May Day platforms in Hyde Park alongside Eleanor Marx. The new union banners were conspicuous and most speakers referred to the "South African marauding expedition got up for the benefit of stock exchange gamblers", as the journal Justice put it.
War fever was in the air. For a decade or more the British had been skirmishing with the Boers for control of the land of South Africa, having broken the Zulus in the first Boer War of 1880-1. This was not the first but one of the most blatant resource wars of the British Empire where European descended settlers fought over valuable diamond and gold deposits.
Two months after she made those speeches against the Boer war, Stacy was involved in the International Peace demonstration in Hyde Park, organised by Eleanor Marx and held before the International Congress in July 1896. Despite pouring rain, the preceeding procession deeply impressed the visiting Christian socialist and women's rights veteran from America, Frances Willard. She described the march passing her on the Thames Embankment, people carrying their red flags "to the music of the Marseillaise", 50 brass bands playing the "avenging sword unsheathes", and "march on, march on, all resolved on liberty and death".
In Hyde Park there were 12 platforms arranged in a semi circle. Stacy, representing both the ILP and the SDF, was on one of these (number 11) with the dockers' leader, Tom McCarthy, the six speakers all supporting a resolution which declared that peaceful relations between nations are essential for progress; that wars are against the interests of working people and caused by capitalist and landlord classes seeking to control markets; and that peace, therefore, depends on the aboliton of the system and its replacement by socialisation. It also called for arbitration and an international eight-hour day to be established by law, and for universal adult suffrage.
Stacy's opposition to war, and this war in particular, chimed with her fellow socialists in the ILP. She was also strongly opposed to the exploitation of people by imperialists who wanted to grab the spoils of valuable gold and diamond mining rights, a desire which led them to use military force both to win wars over other imperialists in Africa and to abuse the rights of indigenous peoples.
So why have Stacy's views, and her outstanding contribution to the spread of ideas about socialism among working people been so overlooked?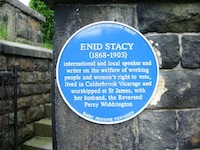 Well, first, she died young. After two exhausting tours of the USA, she came back to her little boy and husband Percy in Littleborough. They had little money. Indeed, her husband, a curate, was hoping she would earn more in lecture fees on another foreign tour, when she was taken ill with a bad leg. She was pregnant again and the doctor ordered rest, but she got up to make tea for visitors. She dropped dead of an embolism in the room with Percy.
She was only 35 but had achieved more in her years of activism than many do over a life time. Yet, while the great qualities of Mann or Hardie as platform speakers or writers are often invoked, there is rarely a mention of Stacy. In biographies she gets a line or two, and there is no entry for her on Wikipedia.
We need to remember the courage of all those who struggled in earlier times, and we should redress the fact that so many, especially women, have been forgotten.
—-
Rae Street is a feminist, peace campaigner and environmentalist. She has been an activist for more than 30 years.
Click here for Rae's talk about Enid Stacy at the 2012 Peace History Conference in Manchester.
Click here for an interview with Rae.