A new forum for Labour Party members to discuss alternatives to austerity and build support for the People's Assembly movement will hold its first meeting in London on Saturday 9 November.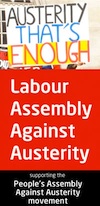 The Labour Assembly Against Austerity was launched at the party's annual conference at the end of September with the support of a number of left wing activists, MPs and trade unionists.
Figures such as journalist Owen Jones, economist Ann Pettifor and MPs Peter Hain,Diane Abbott, Jerremy Corbyn, Michael Meacher and John McDonnell all signed up to the group's initial statement, and many of them will be speaking at the national conference at Birkbeck College.
The event, hosted by Next Generation Labour, will include sessions on opposing austerity, the housing crisis, Labour's trade union links, privatisation in health and education, and Labour policies for the 2015 general election.
Calling for Labour to offer "serious alternatives to Tory austerity" the Labour Assembly Against Austerity has attracted support from more than 20 Labour MPs and 500 councillors and activists.
Its statement "rejects austerity as a solution to the economic crisis" and instead calls for "a plan for public investment and jobs that can get the economy growing".
"We believe by offering a progressive economic alternative to austerity, Labour can best reach out to a broad coalition of voters whose living standards have declined under this Coalition government. In contrast, sticking to the Tory spending limits in the next Parliament would be a disaster for Labour".
Peter Hain told the group's launch meeting that Labour needs to keep exposing the Tory myths around the economy. "We have to destroy the Tory lie that recruiting and expanding the public sector caused the sub-prime market crash," he said. "If Labour wins this argument then we can win the next election."
The forum is also supported by a number of trade unions and Labour left gropus such as Chartist, Labour Briefing, Labour Representation Committee, Left Futures, Red Labour and Tribune.
—-
More details about the group and its conference are here.
Read more about the People's Assembly Against Austerity here.