A new campaign is urging existing Co-op Bank customers not to move their accounts from the Co-op in an effort to ensure that the bank sticks to its ethical principles.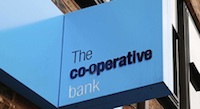 The Save Our Bank campaign which is backed by Ethical Consumer magazine, has been launched in response to the ongoing crisis at the Co-op Bank. Many of the bank's customers are now questioning whether its new ownership structure will guarantee the bank's ethical principles.
Ethical Consumer co-editor Rob Harrison said:
"Save Our Bank is now urging existing Co-op Bank customers not to move their accounts yet and instead wait to see if the bank's new owners will guarantee that they will retain the Co-op's existing ethical principles.
"The bank's new owners need to understand that if the bank abandons its ethical principles then millions of customers will abandon the bank. If this happens then the Co-op's dead in the water and their investment will be worthless.
"If customers leave now there's no chance to join any later collective campaigns of customers in the face of weakening ethical standards."
Co-op Bank customer Shaun Fensom said:
"I've heard many customers – organisations as well as individuals – say they are worried about what the new ownership structure will mean for the ethical stance of the bank.
"But if the customers act together with one voice they become a force to be reckoned with. I would like to see the campaign protect the values and ethics of the Co-op and ultimately help return the bank to mutual ownership."
Consumers who are unhappy with the Co-op's new ownership structure are faced with the dilemma that there are no high street ethical current account alternatives to the Co-op.
Harrison added:
"Although building societies offer a useful ethical-by-default alternative, unlike the Co-op they don't give you a campaigning brand seeking to drive change in the business world. We can't see many building societies currently campaigning on fossil fuels and extreme energy."
—-
Co-op Bank customers can sign up to the campaign.