The ILP has published a new expanded edition of its popular Spanish Civil War pamphlet Land and Freedom, including a brief profile of the ILP volunteer Stafford Cottman written by author Christopher Hall.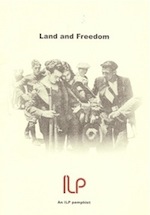 The pamphlet was first published in 1996 to commemorate the 60th anniversary of Spain's revolution and its three-year fight against Franco's fascist forces. Its title is taken from the fictional Ken Loach film which came out that year and covers the same political issues.
A second edition was published with the launch of Hall's book, Not Just Orwell: the Independent Labour Party Volunteers and the Spanish Civil War, and the unveiling of a commemorative plaque dedicated to those who fought and died with the ILP contingent in Spain, at the Working Class Movement Library in Salford on 30 May 2009.
This third edition is published as part of the ILP's 120th anniversary. Hall's profile of Staff Cottman was first published on the ILP website as part of a series of ILP biographies.
Written by Barry Winter, Land and Freedom recounts an episode during the war, surrounding the events of May 1937, which came to symbolise how the republican struggle ceased to be "an inspiration to others, a glimpse of the better society that a politicised working class is capable of achieving" and instead "ended in bitterness and recrimination".
As Winter writes: "The torch that had been lit in revolutionary Spain may have been extinguished, and the hopes of a generation may have been dashed. Yet we have a duty to remember, to retrieve the truth and to learn the lessons. Only then can we say that the attempt by millions of Spanish people to take control of their own destinies was not wasted."
—-
The new expanded edition of Land and Freedom: An Episode from the Spanish Civil War, costs £4.00, including post & packing. Go to our publications page to order your copy.
For more material on the ILP and the Spanish Civil War, click here.