The Unite union has joined calls for a House of Commons debate into UK hunger as foodbanks brace themselves to feed 60,000 people this Christmas.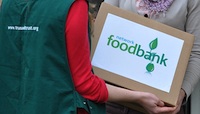 The union accused the government of "turbocharging inequality in Britain" by concentrating on the interests of bankers as the number of people forced to use foodbanks has increased threefold in the past year.
Unite has added its name to a petition proposed by writer and former foodbank user Jack Monroe seeking an urgent parliamentary debate into UK hunger and the growing use of foodbanks. The call has also been backed by the Mirror newspaper and The Trussell Trust while some 70,000 people signed the petition within 24 hours of its launch.
The huge success of the petition highlights growing public outrage at food poverty, which is likely to worsen as 60 per cent of social security cuts are yet to be implemented. Doctors have revealed there's already been a disturbing rise in the number of malnutrition cases diagnosed, up from 3,161 at English hospitals in 2008/09 to 5,499 in 2012/13.
Unite general secretary Len McCluskey said: "This government is turbocharging inequality in Britain. It is a disgrace that in the world's seventh richest country, foodbanks will have to feed 60,000 people this Christmas and fed more than 345,000 people between April and September this year.

"Cabinet ministers have been turning their backs on our cost of living crisis. While hundreds of thousands of families go without food, they have been cozying up to bankers, who are set for another year of bumper bonuses.

"It's time the government faced up to the crisis it is causing. That's why we are calling for a proper debate on the explosion in demand for foodbanks followed up with real action."
Unite has pledged to use its 2013 Christmas fundraising appeal to help The Trussell Trust's foodbank network feed a record number of people over the festive period and has already received thousands of pounds in donations from members across the country.
"We are proud that Unite members are coming together this year to raise money that will help feed kids in their communities," said McCluskey. "But we all know that this shouldn't be the preserve of charity and goodwill. The government is failing in its most basic duty to its citizens and must address food poverty without delay."
Official inquiry
Chris Mould, executive chairman of The Trussell Trust, added: "We said in April that the increasing numbers of people turning to foodbanks should be a wake-up call to the nation, but there has been no policy response and the situation is getting worse.
"The level of food poverty in the UK is not acceptable. It's scandalous and it is causing deep distress to thousands of people. The time has come for an official and in-depth inquiry into the causes of food poverty and the consequent rise in the usage of foodbanks. As a nation we need to accept that something is wrong and that we need to act now to stop UK hunger getting worse."
Evidence from Trussell Trust foodbanks shows that rising living costs and stagnant wages are forcing more people to live on a financial knife edge where any change in circumstance can plunge them into poverty. Even marginal shifts in prices can have a major impact.
Food prices have risen by 12.6 per cent above inflation over the past six years and rising energy prices this winter are likely to see more people forced to choose between eating and heating. People at foodbanks have started handing back food items that need cooking because they can't afford to turn on the electricity.
Many people on low incomes are also being affected by the implementation of April's welfare reforms. Trussell Trust foodbanks are reporting increased referrals as a result of the bedroom tax and sanctioning while the devolution of the social fund is causing confusion.
"Problems with welfare are not new, they have existed for years, but the reality is that when welfare provision breaks down, people go hungry," said Mould. "We're talking about mums not eating for days because they've been sanctioned for seemingly illogical reasons, or people leaving hospital after a major operation to find that their benefits have been stopped or delayed.

"It's not right that so many more people are now being referred to foodbanks due to problems with welfare, especially as much of this is preventable. This is not about pointing fingers, it's about finding solutions. That's why we believe an enquiry is now essential."
Oxfam's UK Poverty programme director Chris Johnes commented that the recent figures "lay bare the shocking scale of destitution, hardship and hunger in the UK. It is completely unacceptable that in the seventh wealthiest nation on the planet, the number of people turning to foodbanks has tripled.
"Oxfam welcomes The Trussell Trust's call for the Prime Minister to launch an urgent inquiry into why people are forced to turn to foodbanks."
—-
Click here to add your name to the petition.
More information about The Trussell Trust and its foodbank network is here.
More about Unite's Christmas appeal is here.