The proposed reforms to Labour's links with the trade unions are both a significant step forward in party democracy and a fudge, says WILL BROWN. While the changes should be welcomed (with some reservations), the prospect of a mass, democratic and participatory party remains a long way off.
The process by which we have arrived at this set of reforms seems somewhat cack-handed even by Labour Party standards. Not three years ago, amid great fanfare, Peter Hain launched the Refounding Labour process to scrutinise the party's inner workings and lay a new basis for membership, policy and connection to the wider electorate. That process resulted in some limited, but mainly sensible reforms of how constituencies operate, creating a new category of 'registered supporters'.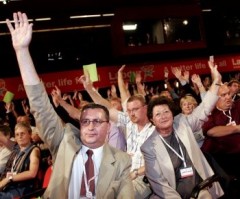 These are now said to number around 20,000. Originally, they were to have no formal role in the party's democracy until there were 50,000 after which they would be given a small say in the electoral college. So far the party has been lukewarm about other proposals floated at the time, such as open primaries for parliamentary selection procedures, although some figures remain keen on this idea.
Amazingly, given its aim of 'refounding the party', that process did not address the party's relationship with the trade unions, its policy processes, the role of conference, or election procedures. Subsequently, changes were introduced to the National Policy Forum, although they were hardly the root and branch overhaul some had called for.
Fast forward to summer 2013. Under intense media and Tory pressure following the Falkirk fiasco, Ed Miliband acknowledged that we do, in fact, need a fundamental rethink of the party's links to the trade unions. After some initial bluster, discussions disappeared off into the backrooms where Ray Collins attempted to put together a set of reforms that would keep the majority of the major unions on side while allowing Miliband to claim he'd seen through a major change.
The party's membership have been largely excluded from the process. While that may have been driven by the difficulties of thrashing out a deal with the unions, it must not be allowed to set a precedent for future discussions about party reform. A consultation exercise around the Collins report – minimal even by Refounding Labour standards – was conducted at the end of 2013. But key decisions and deals were done separately: first, between the leadership and the trade union leaders; then with the PLP; then the NEC. The whole set of reforms now goes to a special conference on 1 March where the changes are expected to be endorsed.
The reforms
Finding a reliable account of the detail of the reforms is not easy, but these seem to be the key points:
To become affiliate members, trade unionists will have to take two steps – agree to pay the political levy to Labour, then agree to become an affiliated member for a cost of £3.
All affiliated members will then have a direct relationship to the party which will hold their details, send out ballot forms and make these details available to leadership candidate elections and local constituency parties. Previously this was not possible and unions kept control of political levy payers' details.
This change will be phased in over five years. All new union members will be required to go through this process immediately, but existing members will be converted over to the new system gradually.
The electoral college for leadership and deputy leadership elections will be abolished. Elections will be conducted on the basis of One Member One Vote (OMOV). 'Member' here is to be taken to include affiliated members, full constituency members and registered supporters who will each have one vote and no one will have more than one vote.
The candidates in leadership elections will be nominated by MPs, as at present, but rather than requiring the backing of 12.5% of MPs, they will need to receive the backing of 15% of MPs.
If there is a leadership election between now and five years' time, it will be conducted on this new basis, even though many union members will not have converted to the new affiliate status.
Trade union affiliated members will not have a vote in parliamentary candidate nor council selection processes; that right is reserved for full party members.
There will be a primary to select the candidate to be Mayor of London in 2015 which will be conducted on the basis of OMOV among party members, those union members who have affiliated by that point, and registered supporters.
The idea of a spending limit on local selection processes was raised but put on hold for future consideration.
There were no proposals for changing the balance of representation on the NEC, where just six people on a 30-strong executive represent ordinary party members.
Voting at conference will remain as it is at present, with trade unions commanding 50% of conference votes. There will be an adjustment to how that 50% is distributed among the trade unions in five years' time when we know how many affiliated members each union has, but at present there is no commitment to change their 50% share. Currently just three unions account for three quarters of this 50% of votes at conference.
Assessment
The ILP has a long and honourable record in debates about party democracy and has been saying for years that, at a basic level, the argument for OMOV is unanswerable. Given that this represents a move towards OMOV, it is to be welcomed.
The downsides should also be noted, however. First, what is proposed is not in fact OMOV, but something more like OMOAMORMOV (one member or affiliate member or registered member one vote). That is, full members may see their voice challenged, some think drowned out, by individuals who make a far more limited commitment to the party, financially or organisationally.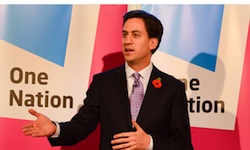 To say that all will be treated fairly and equally, as Miliband claims is disingenuous in a situation where members pay over 10 times the amount in membership fees than people joining via the two other categories. There is a danger too that political opponents could use the registered supporter section to influence party elections. At the time of Refounding Labour, the ILP argued strongly against registered supporters having a formal say in party processes.
The reforms include a significant shift in power from MPs (who lose their 30% say in leadership ballots) to members, and this is to be welcomed. MPs appear to be very positive about the change and even argued for a reduction in the nomination threshold from a proposed 20% or even 25% threshold to 15%. They will still have significant power because OMOV counts for little if there isn't a strong field of viable (and varied) candidates. Although keeping a nomination threshold restricts the field, it is right that any candidates for leadership should be able to demonstrate some backing from fellow MPs.
However, last time around under the existing system – when backing from just 12.5% of MPs was needed – we still ended up with the slightly farcical situation of one candidate (David Miliband) nominating a rival candidate (Dianne Abbot) in order to broaden the look of the field from one consisting entirely of white men. The underlying problem here, of course, is the lack of diversity – political and otherwise – in the Parliamentary Labour Party.
At the moment, local selection procedures are reserved for party members and this too is welcome. The prospect of political factions, or political opponents, packing in newly registered or affiliate members to influence an election is far more dangerous at a local level (because of the smaller size of the electorate) than nationally.
However, as Harry Barnes has pointed out, there are many more problems with local selection procedures, which remain subject to considerable central party influence, than merely who gets to vote. In particular, Harry has argued that candidates should be restricted to those who have a connection with the constituency in question, so preventing 'carpet baggers' being imposed by either unions or the party leadership.
The introduction of a primary for London Mayor is more worrying. Aside from grabbing headlines, it is presumably intended as a trial run for other selection procedures. The commitment to leave local party members in control of candidate selections will look vulnerable if the London process is deemed a success. It may also lead to a rush to sign up registered supporters in London.
Key amendments
Key amendments to the current proposals should include:
1. There should be a time-limit of 12 months membership before anyone (members, registered supporters or affiliated members) can have a vote in party elections. This is necessary to prevent attempts to influence elections at short notice and to demonstrate that those voting have a minimal level of commitment to the party.
2. Some thought should be given to how it might be possible to convert affiliated members into full party members whether through incentive schemes or involvement in local parties. The aim should be that affiliated members and registered supporters become full members in due course.
By the same token there needs to be some thought given to how to retain, encourage participation by, and attract more, full members. As Harry has noted, one danger of the new scheme is that existing full party members who are also trade union members may actually have an incentive to quit their party membership and become an affiliate given that they can still have a say in leadership elections for less than a tenth of the cost.
3. There should be a commitment to revisit the question of how votes at conference are distributed. If the party is now more willing to recognise the absurdity of the paper army that is the trade union block vote, then this cannot remain off the agenda. Whether trade union leaders should in future be allowed to cast votes on behalf of their affiliated supporters in party conference is a moot point. The desire to keep this 'collective voice' within the party is very strong in some quarters.
On the other hand, if individual affiliated members are deemed to have a right to a say on party leadership issues, how is that right to be recognised within the policy processes? What cannot be ruled out from future debate is the unions' share of conference votes – whether collectively exercised or not.
This is a point on which unions have flatly refused to budge this time around. But unions now have five years to try to get levy payers to sign up as affiliated members. After that period – arguably it should be possible well before then – we will be better able to judge the level of union members' support for the party. This support may be as low as 200,000 willing to affiliate, out of some 2.7 million levy payers. If so, it is unacceptable that unions' voting weight at conference would not come into question.
4. While a spending cap on selection procedures has been kicked into the long grass for the time being, there has to be a commitment to look at how selection procedures can be made more open to a diverse range of candidates. This could take the form of a guaranteed level of support from the party for candidates (party funding for mailshots, for example, as argued here), the kind of residency requirement argued for by Harry, or by some other means.
All those amendments are necessary, but above and beyond these organisational issues is a larger political one. Even with a democratic internal structure (something we are still a very long way from achieving) there is a need for a participatory political culture, one which welcomes vibrant debate and discussion.
At the local level, many parties are moribund or, where active, are geared almost entirely to work around council and parliamentary elections. To have a more active, engaged internal life, the party has to become a place that welcomes disagreement, debate, and is open to dialogue with activists, campaigns, organisations and movements that are not solely focused on electoral politics.
As we argue in Our Politics, this relationship between different forms of political activity, party and movements, needs to be re-forged. It is not so much a matter of 'bringing the people back into politics' in an organisational way, as Miliband claimed, but of bringing the politics back into political parties.
—-
The ILP has a long history of campaigning for democratic change within the Labour Party. Click here to read more.