Labour leader Ed Miliband and the party's policy review chief Jon Cruddas made separate but complementary speeches recently that merit thoughtful consideration, says BARRY WINTER.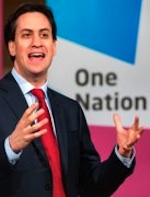 Ed Miliband was delivering the Hugo Young Lecture on 10 February. His focus was on changing the culture of the public sector to empower those who use it. Two days later the head of Labour's policy review, Jon Cruddas, addressed the New Local Government Network and offered a broader analysis of what's wrong with society and what needs to be done.
In this brief introduction, I cannot hope to cover all the issues they raise but I hope it leads to a constructive and critical review of what they are saying from a democratic left perspective.
I will admit at the outset that I was impressed and hope that we are starting to see the much-needed momentum that Labour needs to contest the general election. Of course, the floods understandably stole the headlines but Miliband and Cruddas have laid the basis for something tangible and different from past Labour leaderships. A narrative is emerging.
Of course, what they offer is social democracy but this is a new form of social democracy. The academic Colin Crouch in his excellent book, Making Capitalism Fit for Society, writes of the need for an 'assertive social democracy' to replace its earlier defensive form. Hilary Benn, the communities minister, speaks of the need for a contributory form of politics to replace passive, consumer politics.
All these are signs, I suggest, that something creative is taking place. Whether it meets all the huge challenges – and unbalances – of our contemporary world is yet to be seen. But a start has been made and that deserves recognition.
Sense of purpose
Miliband spoke of the need for government to have a sense of purpose. He announced: "This commitment to people powered public services will be at the heart of the next Labour government." This means going beyond consumerist notions of choice to having an effective voice. While this did receive coverage, I don't recall his underlying argument being picked up. Yet this is fundamental.
He declared: "This vision for public services is rooted in one of the key principles that drive my politics. The principle of equality… An ethical view about the equal worth of every citizen." He goes on to say that his concern flows from his belief that "large inequalities of income and wealth scar our society", preventing a common life.
The ethical basis is an important starting point for left politics and it is closely allied to Cruddas who talks of the need "to take seriously where power lies in our society".
The critique of Unbalanced Britain I have written about elsewhere starts from similar foundations. Of course, this goes well beyond over-centralised power in the public sector to the grotesque dominance of corporate power today that also has to be challenged, as Cruddas acknowledges when he says: "Our economy became dominated by an over powerful financial sector."
What disappoints me in both accounts – even if we just focus on the public sector – is what is not said. Cruddas rightly advocates: "Labour's policy review is about giving power to people to give them more control of their lives." One of the examples he gives is of a social care system "making older people genuine partners in the design of their care".
Absolutely, but what is missing here is the role of the workforce in the public sector and, more broadly, the nature of work in an unbalanced economy generally. Maybe this will be looked at in future announcements – I certainly hope so. It deserves greater attention.
Work today is being devalued and demeaned and many, if not most, working people in the public and private sectors are leading pressurised and stressful working lives. Being a teacher today is having the creativity and pleasure squeezed out of it. All this needs addressing and, preferably, sooner rather than later.
That said, I think a start has been made upon which, I hope, it becomes possible to build the foundations needed to reconstruct society, to redress its imbalances, and to restore meaning and value to daily life.
—-
The text of Ed Miliband's speech at the Hugo Young lecture is available here.
There is a video of the speech here.
The speech given by Jon Cruddas to the New Local Government Network is here.
There is a comment on the Cruddas speech here.
'Unbalanced Britain' by Barry Winter is here.