Labour policy chief Jon Cruddas will be one of the speakers at a joint Compass and Labour for Democracy meeting on the role of the state to be held at the House of Commons on 21 July.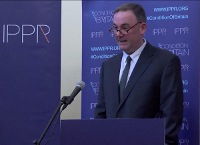 "We know the state can do great things," says the Compass publicity. "Just recently the NHS was voted the world's best healthcare system.
"However, with increased privatisation, an ageing population, the election looming and new models of services like relational welfare, we have to really think about a modern and empowering vision for the state."
Cruddas will be joined on the platform by Green Party leader Natalie Bennett, Gareth Epps of the Social Liberal Forum, Paul Blomfield MP, chair of Labour for Democracy, and Sue Goss from Compass.
What: What is the role of the state?
When: Monday, July 21th 7pm
Where: Committee Room 9, Houses of Parliament
Speakers: Natalie Bennett (Green Party Leader), Jon Cruddas MP (Labour Policy Review), Gareth Epps (Social Liberal Forum), Paul Blomfield MP (Chair, Labour for Democracy), and Sue Goss (Compass).
RSVP: rosie@compassonline.org.uk
—-
Click here for more details of the meeting.
More information about Labour for Democracy is here.
More information about 'relational welfare' is here.