ILP members and friends gathered at the Circle conference centre in Sheffield at the end of June for the first in a planned series of one-day workshops on 'Unbalanced Britain'.
With a particular focus on the living wage and young people, the Sheffield seminar got the series off to a lively start, stimulated by Barry Winter's introduction to the theme, which linked increasing disparities in wealth and power with the population's growing sense of powerlessness and alienation from mainstream politics.
Drawing on David Marquand's recent book Mammon's Kingdom, Winter (left, with ILP chair David Connolly) pointed to the rise of corporate power over the last 30 years as a defining characteristic of this era of 'market triumphalism', as described by philosopher Michael Sandel.
The underlying 'greed is good' creed has "sunk deep into all areas of society", said Winter, so that "consumerism now takes precedence over any notion of shared lives and responsibilities".
This "profound cultural shift" was epitomised, he said, by a recent greetings card slogan proclaiming, 'Difficulties are a stepping stone to success', as if individual problems had no social context. Meanwhile, universities increasingly operate as if they are in a market place, so that education has become a commodity and "learning takes second place to earning".
While such public institutions are privatised (or at least marketised), large private corporations gain increasing influence over politics and public policy – their consultants and advisers colonise government departments while directors of large food companies play leading roles on government food and health advisory boards.
Our democracy pays a "heavy price" for this imbalance in power as many voters understandably "feel shut out and largely voiceless", people such as the single mother from a Leeds housing estate who told a researcher: "People like me don't really count." As alienation grows, feelings of powerlessness turn to hostility, simplistically trained on easy targets such as immigration and welfare benefits.
The need for a morally-based politics has never been greater, said Winter, yet the institutions on which it once was based are themselves in trouble – political parties suffer from declining membership; trade unions are blunted by the legacy of Thatcher's deliberate measures to tip the scales in favour of business.
Yet some organisations are trying to re-establish trust and engagement, such as London Citizens fighting for the living wage and the Church of England taking on pay-day loan companies such as Wonga. Ed Miliband's challenge to the big six energy firms is also welcome, added Winter, but the Labour leader will need a movement behind him and widespread support to make a real difference.
What's often forgotten, he said, is that large corporations are themselves political entities, ones whose power remains undimmed even after the financial crash. Their enormous influence and unaccountability has even prompted criticism from some unlikely quarters, such as Bank of England governor Mark Carney, who said recently that "the basic social contract at the heart of business is breaking down", and the right wing Centre of Social Justice who attacked crony capitalism as a distortion of the free market.
What's needed are stringent new rules to curb the power of corporations, but also greater corporate democracy, so that communities, consumers and workers have a say in corporate decision-making. "Inequalities in power feed inequalities in wealth," said Winter. "And inequalities in wealth feed inequalities in power."
A living wage
The ever-growing wealth gap and the need for a compulsory living wage was the focus of the second session, led by Ernie Jacques, who began by pointing out that despite tax credits and other Labour measures to benefit the low-paid, in-work poverty has continued to grow over the last 20 years.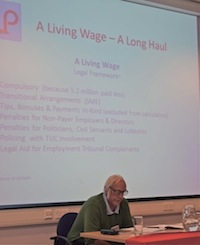 As many as 5.2 million people are paid less than the living wage of £8.80 in London and £7.65 in the rest of the UK, and many of them are on zero hours contracts. A huge number of these, Jacques (left) pointed out, work for large corporations, such as Amazon, Next, Asda, and many others.
However, while the idea of a living wage has gained some support across the political spectrum, it remains a voluntary system, allowing thousands of employers off the hook. Just 632 are accredited living wage employers in Britain, covering just 30,000 low-paid workers. Under the current time-frame, according to Jacques, it will take 500 years before all low-paid employees are on a living wage.
"It's good there's growing support but workplace inequality continues to grow," he said. "So we are entitled to question a voluntary system that many employers are unlikely to sign up to."
Jacques' call for the living wage to be made compulsory and statutory received widespread support from the audience. He suggested there could be transitional arrangements with tax credits to ease the burden on small and medium sized enterprises, so that within 10 years all employers could factor the living wage into their budgets. There should also be penalties for non-payers and avoiders, he added, and a system for policing its application led by the TUC.
How to make this happen politically was a different matter, he said, accepting that it could take "a long haul" of coalition building and campaigning to change the current pro-business culture. At the moment, even Labour is prepared only to consider 'incentivising' business to get on board.
A voice for young people
How to incentivise young people to become more involved in politics was one of the questions raised in the third session, led by local youth worker and parish councillor Greg Roberts.
Two years ago Roberts campaigned against his Tory county council's plans to close 40 youth centres, proposals which would have put 160 youth workers out of a job. Roberts, a volunteer at his local centre in Eckington, north east Derbyshire, garnered the help of the local Labour Party, got 16,000 people to sign a petition, and managed to hold on to "the bare bones of a youth service" for the sake of the workers and the young people.
However, Roberts accepts that he's unusual, admitting that most young people these days are so disillusioned with their prospects they shun involvement or interest in politics.
School leavers, he pointed out, are faced with a depressing choice – go to university and rack up debts, or take an apprenticeship and get paid peanuts. Those who choose university are faced with accumulating debts of up to £50,000, while those who become apprentices are often treated as cheap labour, earning as little as £2.68 an hour.
"I think work-based learning is priceless," said Roberts, who's an apprentice accountant. "But nine out of 10 apprentices do the same or similar work as other employees. We should have a fair day's pay for a fair day's work."
As for what political parties can do to engage young people, Roberts said: "Many young people don't know what they want from politics, but political parties need to be tailored more to them. They need to be more open and they have to give young people control."
—-
The second workshop in the Unbalanced Britain series is likely to be held this autumn. Subjects, speakers and details will be announced on this website in the coming weeks.
If you have ideas for speakers or topics that you would like us to focus on please let know through the comments section at the end of this article, or via info@independentlabour.org.uk.
You can also submit articles to the website on the Unbalanced Britain theme. Please send them to editor@independentlabour.org.uk.
Barry Winter's contribution, 'Unbalanced Britain: Corporate Power and our Me-Based Culture' can be read here.
Articles based on the other two contributions to the Sheffield workshop will be published here in the coming days.
See also: 'Unbalanced Britain: What Can We Do?' by Barry Winter, and 'Labour and the World of Work' by Ernie Jacques.