The People's March for the NHS will arrive at its destination in London this Saturday, 6 September, when campaigners will be joined by thousands of demonstrators for the final leg from Red Lion Square to Westminster.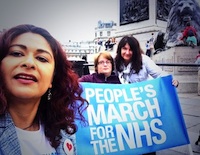 Started by a group of working mums from Darlington committed to stopping the privatisation of the NHS, the '999 Call for the NHS' march left Jarrow on 16 August and has been winding down the country for the last three weeks following the route of the original Jarrow Crusade.
The final leg of the march will start at 2.30pm from Red Lion Square, Holborn, in London, with campaigners gathering from 1.45pm. There will be a rally in Trafalgar Square form 3.30pm with speakers including columnist and author Owen Jones. Further details can be found here.
Clive Efford MP is also introducing a Private Member's Bill to stop David Cameron's privatisation. It aims to restore the duty on the Secretary of State to provide healthcare and importantly will repeal the Tory changes which force the market to the heart of the NHS.
Efford's Bill is due for a Second Reading on 21 November and a petition has been set up to gather support – it can be found here.
—-
More information about the 999 Call for the NHS march is here.