Far from being a certain route to social democracy, as some suggest, Scottish independence is a short-cut to nowhere, says WILL BROWN. We need a longer term strategy for a progressive unionist future.
A key argument on the left of centre in Scotland, repeated this week by George Monbiot in the Guardian, is that independence will allow Scotland to achieve what it cannot in the UK: social democracy. Friends in Scotland echo this, saying people are fed up with the status quo and just want a chance to change.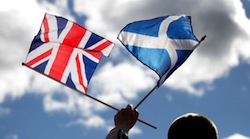 And indeed, the referendum campaign in Scotland, especially at grassroots level, has revitalised activism, and encouraged people to question future possibilities and engage in discussions about political alternatives in a manner that stands in startling contrast to the pervading media image of disillusion, apathy and cynicism about politics. Organisations such as Common Weal and National Collective, and events like Yestival are signs of a political debate far more passionate and imaginative than that offered by the mainstream parties.
In these times, who could not be tempted by the chance to separate, to begin afresh, as many on the left are, in England as well as Scotland? It is an impulse that animates, not just nationalists, but many advocates of regional devolution too: a chance to govern 'our own area' freed from the constraints of Westminster and the City.
Yet, this position sits uncomfortably with the history of socialism and social democracy in Britain. Social democracy in post-war Britain was indelibly a unionist creation, as was the broader socialist movement that emerged from the late 19th century. One only has to skim through the profiles of ILP pioneers and politicians on this web site to understand that socialist and social democratic politics in Britain are … British.
No nation within the UK can claim a right to that heritage, separate from another. Indeed, one would have to acknowledge that it wasn't even only a British creation, but one which melded and made room for politics from elsewhere too – including from Europe and from Britain's colonies.
Denying the role of England and English political activists and politicians, the role of the union, in creating the very social democracy that many pro-independence campaigners seek to 'rescue', does a huge disservice to the many political activists who have worked and continue to work for social democracy north and south of the border.
One has to ask of the left who are supporting independence, what price solidarity? What of the solidarity across the UK that forged campaigns for the vote, against unemployment, for the NHS, and today, against austerity and the bedroom tax? It wasn't the left in England – or even a majority of English voters for that matter – who inflicted the poll tax on Scotland.
But it was a united movement, north and south of the border, that brought an end to that Thatcherite abomination, and it could be too with the bedroom tax. One is tempted to suggest that some of the left-wing supporters of independence need to remove the blue Saltire from their eyes and see a bit more red.
Hard truth
Perhaps one could live with this traducing of history if the political prospects looked good, if indeed independence could propel Scotland towards a revitalised social democracy. The hard truth is they don't look any better there than in the UK as a whole. The pursuit of separation, tempting though it may be, is more a sign of desperation than of long-term strategic thinking for those on the left.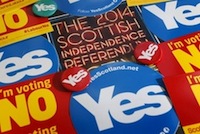 In today's global economy, the prospects for social democratic policies in any one country are poor. Certainly since the late 1970s, but before that too, almost every attempt to implement social democracy has had to face crises brought on by the reaction of capital, in the form of currency traders, bond traders and investors. In major economies, from the UK in 1945 to France in the early 1980s (and France today for that matter), social democratic governments have had to tack and weave in the face of adverse international economic winds.
Most have eventually changed course; many capsized in the storm. As Vince Mills has argued cogently on this web site, the idea that such experiments would be more sustainable at the scale of a Scotland-sized economy, as compared to a UK-sized economy, seriously underestimates the constraints small nations face in today's international system.
There is an assumption among many on the left that political independence automatically delivers a real, de facto independence from international capital. Yet the strength needed to make such left of centre experiments survive is more likely to be found within a larger economy and, even then, would need the kind of broad public support and active popular participation that has been so lacking from so much of Labour's history. Without these defences, the pursuit of independence seems more like a strategy for hiding in the long grass hoping the tigers of international capital will forget you are there.
It is true that the prospect of even a modest social democratic programme in the UK is fraught with difficulties. It is this that makes the temptation to go it alone in Scotland so strong. (Of course, independent Scotland, by denying Labour so many seats in Westminster, makes it even more difficult to achieve on a UK-wide basis.)
But independence is a short-cut to nowhere. At best, it offers a short-lived honeymoon. At worst it offers the kind of instant crisis-management, 'facing up to economic realities' and ditching of principles that have greeted so many social democratic governments. How long will it be before we hear a leader of independent Scotland echo Callaghan in '76 and tell the disillusioned electorate that 'in all candour this is no longer possible'?
The prospect of crisis, and the pathologies of diminished expectations that would surely follow, are all the more pressing given Alex Salmond's amazingly ill-considered currency policy. About the only point on which I have ever agreed with George Osborne is the question of currency union. No UK chancellor with an ounce of sense (and, more importantly no English, Welsh or Northern Irish taxpayer) would agree to a currency union without cast-iron commitments, limits on Scotland's fiscal and financial policies, and regulation. After the crash, after Greece, Spain, Iceland and Ireland, it would be astonishing if anyone would be so cavalier with future prosperity as to agree to the kind of deal Salmond is seeking – giving Scotland all the financial freedom and England all the liabilities.
In reality, 'independent' Scotland would have only tough choices: a deal in which Westminster and the Treasury put severe constraints on all the major levers of Scotland's macroeconomic management; a deal for joining the Euro that would come with equally stiff requirements; or 'unofficial' use of the pound ('sterlingisation') in which the Scottish government operated without any control over interest rates, no central bank and almost no ability to borrow money from the markets. The choices are limited and however hedged about it might be with nationalist denunciation of 'London', the EU or 'international capital', Scotland would be forced to accept one of them.
Progressive alternative
So what is the alternative to independence? What prospects can be held out to those north of the border craving a change, any change, from the status quo of austerity?
The perception south of the border is that one of the signal failures of the No campaign has been an inability to articulate a Labour defence of union and vision for a progressive unionist future. Shackled within the all-party Better Together campaign, and by Labour's own record in government, the very idea of an alternative unionist future has been hidden, allowing the Yes campaign to paint the referendum as a stark choice between unionist austerity and independent social democracy.
Alastair Darling's woeful performance in the second TV debate owed something to this obvious trap, making it easy for Salmond and his jeering acolytes in the audience to taunt him about austerity, the bedroom tax and NHS privatisation. Questioned about what union had ever delivered, Darling even failed to make the obvious point that the NHS itself is a unionist, Labour creation. Of course Labour's record in office also constrained what this particular Labour politician could credibly argue.
Thankfully, there is now some acknowledgement that the No campaign needs a clearer sense of what a Labour future might hold for the UK, a UK including Scotland. The absence of a Labour defence of union has belatedly prompted recognition from the Party that it needs to remind voters of the possibility of an end to Tory rule even without independence. It has also spurred Gordon Brown back into the political fray (although he too is shackled by his years of subservience to the City) and prompted Jim Murphy's 100 streets in 100 days' campaign.
From a more left-wing position there is the argument Vince Mills has made from the Red Paper Collective, pointing out that the short-cut of independence represents a failure to face up to the power of the City and the power of capital, and the constraints and difficulties this puts in place. The need to present a progressive alternative to independence, to challenge the SNP's false dichotomy of independence or Tory rule, could hardly be more pressing.
Admittedly, the idea of a progressive political future is a hard sell wherever you may be. The forces ranged against us, the antipathy to socialist values (north and south), the dead weight of past Labour governments, and the absence of a clear progressive voice from today's leadership all make the siren call of independence so much the stronger.
But a longer-term strategy is needed, one which acknowledges the difficulties faced by left-of-centre politics wherever they may be: a strategy that is aware of British social democracy's shared unionist history (warts and all); a strategy that builds on past solidarity between socialists north and south of the border, rather than one that abandons that shared struggle; and, perhaps above all, a strategy that learns from, and is energised by what has been so good about Scotland's referendum campaign – the grassroots activism, the popular participation, the opening up of the parameters of political debate, and the willingness to imagine a better future.
—-
See also: 'No Short Cuts to a Progressive Scotland', by Vince Mills, and 'Want to Escape Austerity? Move to Scotland', by Ernie Jacques.