A series of talks, discussions and conferences to remember those who opposed the First World War will be held in London this autumn, providing an alternative narrative to the official commemorations currently enjoying such a high profile in the media.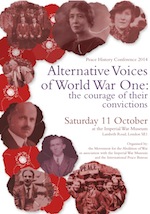 'Alternative Voices of World War One: the courage of their convictions' is the title of the 2014 Peace History conference to be held at the Imperial War Museum on Saturday 11 October.
Organised by the Movement for the Abolition of War in association with the museum and the International Peace Bureau, the day-long conference features Cyril Pearce, author of Comrades in Conscience, talking about patterns of dissent in communities across Britain during the conflict.
There will also be portraits of German peace activism, the Fellowship of Reconciliation and a local pacifist feminist in Lincolnshire, while Speaking Tongues Theatre Company will perform 'Common Ground', a drama based on original accounts by women who went to the Hague International Women's Congress in 1915. John Gittings, author of The Glorious Art of Peace, will provide a critical assessment of how the war is being commemorated.
Registration is £15 (if you're quick); £20 (standard); or £5 (student). More details and online booking at: www.abolishwar.org.uk.
Meanwhile, 'Stop the First World War: Oppositions to the Great War' is the title of a series of talks due to be held every Tuesday evening at Conway Hall from 30 September to 11 November.
These include John Grigg on Ramsay MacDonald on 7 October, Professor Keith Laybourn on the divided response of the Labour movement on 14 October, Katherine Connelly on the Pankhursts, and Professor June Hannam on Isabella Ford, both on 28 October.
Organised by Conway Hall Ethical Society and the Socialist History Society, the series is curated by Deborah Lavin and attendance will cost £5 (£3 concessions).
Further details and booking information here: www.conwayhall.org.uk/talks-lectures
—-
Articles on the ILP and World War One are available here.