The eighth seminar in the Kilburn Manifesto series, will be held on Thursday 23 October at the Marx Memorial Library in London.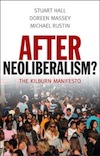 The seminar will introduce Michael Rustin and Doreen Massey's latest instalment of the Manifesto, called 'Rethinking the Neoliberal World Order', and debate the centrality of a global perspective for understanding neoliberalism.
Entitled 'Disorganising the World: Neoliberalism and international catastrophes', the meeting will start at 6.30pm and speakers will include Rustin, Professor of Sociology at the University of East London and founding editor of Soundings, and Justin Rosenberg, Professor of International Relations at the University of Sussex.
More speakers are to be confirmed. The session will be chaired by Jo Littler.
Tickets to non-subscribers are £5 (£3 students/unwaged) while entrance is free to Soundings subscribers.
—-
You can register for the event here.
More information about the event can be found here.
Download a copy of Rustin and Massey's chapter here.