Unite, the largest union in Britain, has come up with an imaginative response to the current austerity crisis by creating a community arm that supports people hard hit by the cuts. GERRY LAVERY reports on how it helps them campaign for change.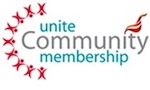 The aim of Unite Community, set up by the Unite union, is to unionise and embrace people "being pushed to the margins of society", including the unemployed and others not in formal paid employment, such as volunteers, students, carers and people who have retired. Community membership, says Unite, "places organising and activism at the centre of local communities; it provides a structure through which people can use their political voices to campaign for change."
Unite has supported its community arm by appointing regional co-ordinators to develop the initiative. It has set up branches in many parts of Britain and established largely part-time community support centres, staffed by volunteers. In the North East, Yorkshire and Humberside region there are now two community support centres, in Barnsley and Durham,  both housed in NUM premises. Another centre is due to open very soon in Leeds.
Membership of Unite Community costs 50p per week, although local Unite branches usually sponsor members if affordability is a problem. Apart from community support, activism and campaigning, individual Unite Community membership includes access to free legal guidance, advice on a range of matters and discounts of various kinds.
In many areas, a core of activist volunteers has emerged while branches are an interesting mix of people from cross-class backgrounds. The Leeds branch, where I am a member, includes people seeking work and people who are retired. The retired members provide continuity when the unemployed members find work, although some of the latter have chosen to hang on to their Unite membership. Volunteers are offered training by Unite and given support.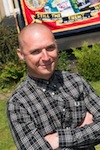 The North East, Yorkshire and Humberside region is lucky to have the able, committed, energetic and supportive Joe Rollin (pictured left) as its full-time co-coordinator. Under Joe's stewardship, regional membership has more than doubled in the last year and now stands at 1,000. One of his recent exciting initiatives was to organise a Unite Community regional workshop with representatives from Barnsley, Doncaster, Grimsby, Huddersfield, Leeds, Newcastle, Sheffield and Teesside.
I was inspired – not a word I use lightly – by what emerged from the workshop, especially hearing about the work going on in various parts of the region, as well as reports from a variety of campaigns. The grassroots initiatives revealed, not only what is happening as a result of the crisis, but also how people are responding.
Anti-poverty initiatives
Many branches are providing support to people who are feeling the impact of austerity and the punitive restructuring of social security by the coalition government. Anti-poverty initiatives include welfare rights work and access to food, clothing and furniture where necessary.
The Barnsley, Durham and Newcastle branches have well established welfare rights advice services, which have made a real difference to people's incomes, while they also support claimants dealing with the harsher aspects of the benefits system. Unite also arranges training in welfare rights – in Leeds, for example, a welfare rights course was conducted by the estimable Child Poverty Action Group.
Several branches provide support to people facing appeal tribunals. Representatives from Huddersfield reported on some impressive local advocacy where 35 bedroom tax appeals were taken to court for review because the local authority had under-used its bedroom tax relief fund. Twenty nine of the appeals were successful, although they are now themselves subject to appeal by the Department of Work and Pensions.
Networking with other groups is crucial, according to Unite Community activists, and in several areas there are links to local organisations offering food, clothing and furniture. Links to food banks were reported in Barnsley, Doncaster, Grimsby and Newcastle, while in Durham the Socialist Clothing Bank was established recently following research by two women members. It was attacked by a nearby Conservative MP for being politically motivated (as if this government's social security reforms are not politically motivated!).
Opportunities for education and training are also offered to Unite Community members. Barnsley's community support centre has offered training in basic computer skills, while Durham provides access to computers acquired through a recycling scheme. In Newcastle members have been offered courses in public speaking and in Barnsley Unite Community has set up a 'radical library' with donated books on politics and trade unionism.
At the workshop, area representatives spoke about how their efforts were not merely compensatory, a way to offset the increasingly punitive welfare regime, but also educational, offering people explanations and understanding of their plight.
Consciousness-raising has paid dividends and callers to Unite support centres have shown a willingness to join the union. In Barnsley, for example, most visitors seeking help end up joining the union. The Barnsley volunteers sum up their approach as "solve, alleviate and recruit". But consciousness-raising does not stop there, for it is necessary to operate on a variety of levels simultaneously.
Campaigning
Evidence from individual cases, and from across the country more broadly, is used to inform the other side of Unite Community's work – campaigning. Certainly, there are many local campaigns across the region in relation to cuts, disability benefit assessments, benefit sanctions, the bedroom tax and workfare.
Sheffield Unite Community, which prides itself on democratic decision-making at branch meetings, bases most of its work on campaigning. The branch has objected to benefit sanctions by occupying a DWP building, while Sheffield members joined others chaining themselves to railings at a protest about disability benefits in Westminster.
They have also campaigned against nursery closures, and protested outside the premises of a local charity which participated in a workfare scheme. The Sheffield campaigns have helped to swell the membership of Unite Community, which now stands at 300.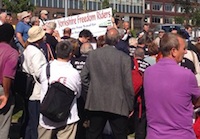 The impressive Jennifer Bush, a Sheffield member, reported on the Barnsley Freedom Riders campaign (left), which began when free travel was withdrawn from senior citizens and people with disabilities in South Yorkshire. They carried out regular non-violent direct action protests, such as boarding trains and withholding fares. Free travel was eventually restored for people with disabilities, but the campaign continues seeking the same result for senior citizens.
On 23 June this year Tony Nuttall and George Arthur were arrested forcefully by British Transport Police during a protest at Sheffield Railway Station, an incident filmed on a mobile phone. Initially, Tony and George were charged with obstructing the police and not having valid rail tickets, although the CPS has now decided to drop the charges because of lack of evidence.
Barbara Jackson, another Sheffield member, gave a compelling and riveting account of recent developments in the Orgreave Truth and Justice Campaign, which dates from the 1984 miners' strike and the notorious confrontation at Orgreave when miners were subjected to unusually violent policing. At the subsequent trials of arrested miners it became clear that the police had colluded over their statements and the trials collapsed.
In the wake of the Hillsborough investigation, South Yorkshire Police referred themselves to the Independent Police Complaints Commission, which promised to undertake a scoping exercise to see if there were grounds for an inquiry. This exercise has now lasted more than two years so a protest was held outside the IPCC's London headquarters on 14 November demanding speedier progress, and a delegation met representatives of the IPCC. South Yorkshire Police have agreed to release papers they had previously withheld and the IPCC are due to report in January 2015.
Meanwhile, in Leeds Unite Community members have been involved in, and given financial support to, Hands Off Our Homes, which campaigns on the bedroom tax and welfare benefits. Leeds members have also been supporting local workers on strike for Fast Food Rights, the Barnsley Freedom Riders and the Orgreave campaign.
In Doncaster members have protested against an active anti-abortion group, and in Huddersfield activists have given support to two activists who occupied a Barclays Bank to protest against the bedroom tax. One was acquitted while the other was given a year's conditional discharge.
A representative from Grimsby reported on his campaign to defeat a UKIP candidate in a local election. Following Austin Mitchell's imminent retirement as the local Labour MP, there is fear in some quarters that UKIP could take the seat at the general election.
Campaigns around social security have also been a striking feature of Unite Community activity. The union has produced some impressive leaflets and made links with PCS, the union which represents job centre staff. In Huddersfield one member came up with an inspired slogan for job centre protests: 'No sanctions for claimants, no targets for staff'.
Union links
Unite Community and the Unite union often work closely together. When community support centres are set up, Unite branches assist with rent and equipment, while Unite Community members have supported workplace struggles by Unite members and other trade unionists. Members from Leeds, for example, supported the recent NHS strikes while the Sheffield branch supported a local Tesco lorry drivers' strike.
Much of the local work done by Unite Community is necessarily of a defensive kind. However, it is also highly supportive, and can lead to opportunities for consciousness-raising, union membership and collective action, often increasing people's confidence and developing their capacities.
The organisation's casework illustrates the impact of an increasingly inhumane welfare regime, which is often hidden and needs bringing into public view. When these issues do surface, they tend to emerge through a hostile media atmosphere which makes people receiving benefits 'fair game'. The fact that the overwhelming majority of benefit claimants are in work is a point rarely made.
Some claimants are extremely vulnerable. Indeed, it was reported recently by the Disability News Service that the DWP is conducting 60 secret reviews into benefit-related deaths, and the Unite Community are so concerned about the well-being of some who come to them for help that the organisation has held introductory courses on mental health for its volunteers.
Unite Community branches throughout the North East, Yorkshire and Humberside region – and I dare say elsewhere – provide individual and community support, resourced by Unite nationally and locally, while linking with a network of other trades unions, local trades councils, and sympathetic local campaigns and charities. It is progressive civil society in action.
What is less clear to me is where there is any link to the Labour Party. Such activities should be used to inform and mobilise the Labour Party, locally and nationally. In the run-up to the general election Labour needs to widen its scope, look beyond the narrow need to canvas for votes, and give clear support to people locally. If people at the grassroots are taking a stand then Labour should be following their lead.
In the meantime, Unite Community is growing and developing, providing many activists with a way of supporting people affected by austerity, of actively opposing cuts and of campaigning for alternatives. I urge you to get invovled; it is good for the soul. After all – to mangle a famous quote – we have nothing to lose but our chains of austerity.
—-
Gerry Lavery is a Unite Community member but writes in a personal capacity.
You can learn more about Unite Community and how to join by clicking here.
The author would like to thank Joe Rollin, Barry Winter and all who attended the Unite Community regional workshop in Leeds on 13 November 2014 for their help with this article.