Labour's opposition to zero-hours contracts is important and welcome, says ERNIE JACQUES. But the party's approach is still far too timid.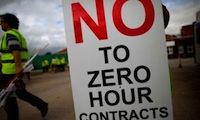 In his speech at Senate House last month, Labour leader Ed Miliband could not have been stronger in his attack on the coalition government's 'zero-zero economy' and the horrific Victorian employment practices exemplified by Mike Ashley, owner of Sports Direct and Newcastle United.
Sports Direct is a mean, no frills and ruthlessly efficient employer when it comes to cutting unit labour costs. It recruits extensively via private job agencies in eastern Europe and has some 17,000 workers on zero-hours contracts, giving them no guarantee of work, nor any sick or holiday pay. It also uses job seekers on work placements, cheap labour available thanks to Iain Duncan Smith and the Department of Work & Pensions.
Yet, after watching the second reading of Gateshead MP Ian Mearns's Zero-Hours Contracts Bill on 21 November, I was disappointed at the paucity of arguments on both sides of the House, the light-hearted nature of the discussion, and the relative emptiness of the Commons chamber (certainly compared to one previous occasion when it was noisy and overflowing with MPs debating an 11% salary increase for themselves).
While Mearns should be commended for his Private Members' Bill it is important to note that: 1) his Bill has no chance of reaching the statute book, and 2) his proposals are designed to limit zero-hours contracts by banning their worst features, not outlaw them.
The proposals are certainly progressive insofar as they would require employers to:
treat zero-hours contract workers on the same basis as comparable workers on regular contracts
give zero-hours workers employed for 12 weeks a contract for fixed and regular hours
give reasonable notice and pay employees in full when a shift is cancelled with less than 72 hours' notice
ensure zero-hours contract workers have the right to make up hours with additional employment, ruling out exclusivity clauses.
They are in line with Labour's National Policy Forum proposals (see the section on 'Improving Wages and Working Conditions'), which also detail plans to expand the living wage and "stamp out zero-hours abuse". So, they are about reform not abolition, but are still a positive and welcome step forward.
Sticking plaster
Yet, to my mind the proposals are far too timid and yet another example of Labour trying to apply a sticking plaster approach, which will fail miserably to deal with the fundamental problems of unfairness and social injustice at work. These problems were illustrated graphically by two recent reports on the BBC.
The first, on Radio 4's PM programme, focused on the private care home industry where the scale of exploitation and poverty wages forced on thousands of compassionate care workers is truly shocking, as is the non-care that vulnerable 'clients' routinely receive.
Increasingly, care workers on zero-hours contracts are paid only for contact time with clients. They are not covered for car maintenance and insurance costs, and receive no pay for travel time between patients or to the office to hand in time sheets and attend monthly office meetings.
At a recent recruitment fare held by one of the UK's biggest care firms successful applicants were required to take a four-day training programme followed by a 12-week probationary period without pay. When all these costs and unpaid work are factored into the contract, many home care workers are effectively valued at £3 an hour, which really is a poverty wage, although no doubt it's regarded by some as another example of private sector innovation and efficiency.
The second report, on BBC Look North, was about a GMB union demonstration outside a Next distribution warehouse in South Yorkshire which has been advertising job vacancies exclusively in Poland. This warehouse is located in the constituency of Hemsworth, a former mining area with large numbers of unemployed job seekers keen to work locally and prepared to accept any offer.
Next is a highly profitable high street chain which justified paying poverty wages by saying it "receives 30 applicants for every job advertised", firmly putting the blame on the market, supply and demand, and in-work state subsidies.
The MP for the constituency is former ILPer Jon Trickett who, unusually for a senior Labour politician or member of the shadow cabinet, joined the picket line and was unequivocal in his condemnation of the company, its avarice and employment practices.
First principles
So, well done Jon, although his party's reforms don't go far enough to deal with such problems.
Even if Labour's proposals are implemented, hundreds of thousands of people working for Sports Direct, Amazon, Tesco, Next, Asda and a growing number of other firms throughout all sectors of the economy, will continue to be denied sick, holiday or redundancy pay, and will have no access to a company or state pensions no matter how many years service they clock-up.
In my view, we need to go back to one of the first principles of the Labour movement and argue that a fair day's work should receive a fair day's pay.
But Labour is full of contradictions in its approach to the world of work for Miliband and his team give the impression they abhor workplace inequality and employers who mistreat their workers, while also supporting the free and unregulated labour markets which allow the likes of Ashley to behave like Victorian Mill owners.
The problem is, Labour often seems equivocal and unsupportive of working people who have the temerity to challenge their employers' diktats, or oppose privatisation and job cuts.
Labour seems to want to be all things to all men (and women), worrying about what the City and right-wing press might think, which is perhaps why so many traditional Labour voters have given up on it. After all, being a little less nasty than the Tories and the Mike Ashleys of this world is still unattractive and objectionable.
Zero-hours contracts are detrimental to the well-being of hundreds of thousands of UK workers and contradict any meaningful concept of fairness and social justice. They should be outlawed, not amended, and Labour's election manifesto should include a clear and unambiguous commitment to abolish them.
—-
See also: 'Labour and the World of Work', and 'Make the Living Wage Compulsory', both by Ernie Jacques.