Tickets are still available for the Soundings one-day conference in London on 21 February 2015 to celebrate the completion of the Kilburn Manifesto and to discuss and develop its ideas.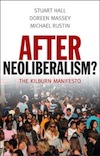 Initially edited by Doreen Massey, Michael Rustin and the late Stuart Hall, the Kilburn Manifesto, After Neoliberalism?, was launched last year by the Soundings journal as an attempt to call into question "the neoliberal order itself", and argue for "radical alternatives to its foundational assumptions".
All 12 instalments have now been published, ranging from Massey's 'Vocabularies of the economy' to 'States of imagination' by Janet Newman and John Clarke, and 'Energy beyond neoliberalism' by Platform. Chapter 11 on'Race, migration and neoliberalism' and Massey and Rustin's concluding chapter, 'Displacing Neoliberalism', completed the impressive Manifesto this year.
The conference next Saturday will combine plenary discussions with smaller breakout sessions to build on the themes of the Manifesto and debate ways forward. Participants from a range of backgrounds are welcome, including academics, students, activists, journalists and commentators.
Speakers confirmed last week include Massey, Rustin, Beatrix Campbell, who wrote a chapter on gender, New Formations editor Jeremy Gilbert, Pragna Patel of Southall Black Sisters, Jo Littler of Soundings and City University, Adam Ramsay from openDemocracy, and Marina Prentoulis from Syriza and the University of East Anglia.
Following the conference there will be a reception to launch the printed version of After Neoliberalism? The Kilburn Manifesto and to honour its co-editor, Stuart Hall.
Tickets are still on sale now for £30, or £12 for students and low waged, while tickets for the post-conference reception only are £6.
What: After Neoliberalism? Soundings Kilburn Manifesto Conference
When: Saturday 21 February 2014, 9.30-4pm
Where: Human Rights Action Centre, London EC2A 3EA
—-
Find out more about the Kilburn Manifesto here.
Find out more about the conference and how to book your place here.