It's the last chance to book for the ILP's free Unbalanced Britain seminar on 'Work, Wages and Labour' in Leeds this Saturday, 14 March.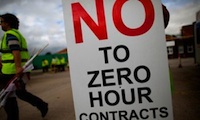 The second in the ILP's Unbalanced Britain series, this one-day workshop will explore on-going changes in the labour market and work conditions, their political and social consequences, and what is being done in response, both by campaigning groups and by the Labour Party.
Since the crash of 2008 the dominance of corporate elites has remained largely unchanged and unchallenged. Instead we have seen ever-increasing pressure on wages and conditions of work, zero hours contracts and cuts to in-work benefits.
More than five million workers in the UK are paid less than the living wage. Yet such attacks have been met with new forms of resistance, the campaigns for a living wage foremost among them.
Speakers at the seminar will include Jane Wills, Professor of Human Geography at Queen Mary University London, who will talk on 'work, politics and the living wage', looking in particular at the living wage campaign, but also at broader labour market issues and community campaigns.
She specialises in the political economy of work, employment and labour, and new forms of urban political alliances, such as community organising. She is a former trustee of London Citizens and co-author of Global Cities at Work: New migrant divisions of labour.
The second speaker will be Harry Barnes, former Labour MP for North-East Derbyshire, who will look at what the Labour Party is planning to do if it wins the general election in May.
Barnes is author of the blog, Three Score Years and Ten. Recently, he has been scrutinising Labour's emerging policy platform.
There will be ample time for discussion and questions while the closing session will attempt to draw out emerging themes and assess what the future might hold.
What: Unbalanced Britain: Work, Wages and Labour
When: Saturday 14 March, 10.30am-4.30pm
Where: Room 412, The Rose Bowl, Leeds Beckett University, Leeds LS1 3HB
The event is free but you need to register in advance. There is still time to do that if you contact immediately.
You can download a booking form here, or contact us via info@independentlabour.org.uk; tel. 07799 502 937.
Tea and coffee will be provided and lunch will be available to buy from the Rose Bowl cafe.
—-
Click here for reports from the first Unbalanced Britain seminar.
Click here for Barry Winter's opening talk, which set the scene for the series.