It is with great sadness that we learned this week of the death of the ILP's oldest member, Jennie Cuthbert. Jennie died peacefully in her sleep on Monday 9 March. Jennie's lifelong membership provided a living link between the modern ILP and the organisation's earliest decades.
In tribute to Jennie, we are re-publishing an article written about his parents by her son, the Welsh Assembly member, JEFF CUTHBERT. The article was originally part of our 120th anniversary series in 2013. In it, Jeff remembers being surrounded by history and socialist principles as he grew up in an ILP household.
I should start by saying that I write this in a personal capacity and that it has been drafted jointly with one of my brothers, who as a politically restricted civil servant cannot be credited in name. I should also say that it is based entirely on our memories and has not been the subject of research, so I apologise now for any factual errors.
My two brothers and I grew up in a home in Cardiff where the history and principles of the ILP very much surrounded us, even if it was not always obvious to us at the time. Busts of James Maxton and Keir Hardie; bookshelves full of Fenner Brockway and George Orwell; regular deliveries of the Socialist Leader; holidays at summer schools (often raining); aunties and uncles who turned out to be nothing of the kind were all part of what we thought of as normal – until we got to know other people!
For us, in our childhood and youth spanning the 1950s, 60s and 70s, what was taken as read was that the trade unions were pretty nearly always right, Labour was good (though not really socialist), the Tories bad, religion was frowned upon (as was swearing, smoking and drinking, for some reason), and anything military was to be avoided. It's perhaps not that surprising that both myself and one of my brothers ended up joining the Militant Tendency and were activists in the group from the late 1960s to the mid-1980s – in a lot of ways, to us, it was the ILP equivalent of our time.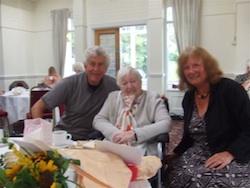 So I'd best introduce my parents who gave us this highly political foundation. Our father was Bill Cuthbert, a skilled printworker and official of the National Graphical Association for most of his working life. (I should perhaps throw in that a spin-off from this was that no comic produced by DC Thompson, famously non-union Scottish publisher, was allowed in the house. Unfortunately, they were the best and funniest: Beano, Dandy, etc).
Dad was from Glasgow, brought up in hard working class districts like Shettleston and Parkhead in what was also very much an ILP household. His mother had run soup kitchens during the general strike and his father had been an official of the ILP and, for many, many years, a branch secretary of the Engineering Union, whether ASE, AEU or AUEW. The two of them were intimately involved in what was referred to as the 'Red Clydeside' movement, and knew people such as James Maxton, Jimmy Carmichael and John McGovern personally.
My father and his brothers were active in the ILP in the 1930s, by this time outside the Labour Party. Dad stood for the council, unsuccessfully, for the ILP at one point. He also became a conscientious objector to service in the Second World War, a decision which was to affect his career prospects and social life for many years to come. He spent a good part of the war working on a farm in quite harsh conditions, from what he told us.
Our mother is Jennie Cuthbert, previously Hambley, who came from a quite different but equally significant political background within the ILP. She is pictured, above, on her 90th birthday with Rhodri Morgan, First Minister of Wales from 2000 to 2010, and Julie Morgan, former MP for Cardiff North.
Her family was from the village of Nelson in what is now the county of Caerphilly and which, as fate has it, now lies within my constituency. They were part of the ILP in that area which had coalesced around the election of Keir Hardie as Member of Parliament for the neighbouring Merthyr Tydfil constituency. Mum's family were involved in the campaign which saw Morgan Jones become MP for Caerphilly, despite having been a conscientious objector during the First World War, with all the consequent disadvantages that threw up.
Her father was a coalminer – as were most of the men of that area. Her aunt, Ann Hambley, was a teacher who moved to London to work and became closely involved in ILP activities in the capital, getting to know the leading lights in the party and famous 'stars' such as George Orwell (Eric Blair) and even, in passing, Oswald Mosley. I remember visits to my Auntie Ann's house in what to us was the very posh London district of Hampstead Garden Suburb, just around the corner from Harold and Mary Wilson. She provided digs for a while for Neil Carmichael, son of Jimmy, when he first got elected to parliament.
Our mother was extremely gifted academically and musically, becoming head girl at Mountain Ash Grammar School before spending the wartime years at Cardiff University, where she gained a double first in music and French. She was later to become a highly regarded music teacher at the university and at the Welsh College of Music and Drama, and also an accomplished piano accompanist.
Conferences and summer schools
So how did these two get together – the Red Clydesider and the South Wales miner's daughter? ILP conferences and summer schools, of course, with our Auntie Ann as principal matchmaker. She knew everybody who mattered in the party. I believe they met during the war and they certainly got married soon after and decided to set up home in Cardiff.
I mentioned earlier the uncles and aunts who were nothing of the sort. One of these was Emrys Thomas, long serving national chair of the ILP (possibly the last before the re-entry to the Labour Party?). Uncle Emrys to us, he ended up living a couple of streets away in Cardiff, close to his sister (our pretend Auntie Myfanwy) and our real Auntie Ann who lived close by this time. Another of our pretend uncles was Uncle Brynley – Brynley Thomas – whose massive collection of socialist literature formed the base of the South Wales Miners' Library in Swansea University.
So really we stood no chance but to become committed socialists and our natural allegiance to the broader labour movement led us towards the Militant Tendency within the Labour Party (at that time), rather than to any of the small groupings outside Labour. Later, of course, we moved into more mainstream politics, which in my case has led to me becoming elected to Wales' devolved administration where I now serve as a deputy minister, much to the pride of my 92-year-old mother.
Our early attachment to Trotskyism was not without lively arguments in the Cuthbert house, however.
My father was committed to pacifism, with his only concession being the correctness of the battle to save the republic in the Spanish Civil War. Having lived through the period of Hitler and Stalin and their atrocities, he was very suspicious of anything which he felt might be at odds with the democratic system.
Having said that, he would usually side with us in any argument within the Labour Party when confronted by those he viewed as defenders of capitalism. And he was perhaps more understanding of the idea of organisations within the main party, having had a similar experience in his youth.
My mother and father joined (or rejoined) the Labour Party in the 1970s, following the decision of the ILP to end its long period of exile. They became stalwarts of the local Whitchurch Labour Party in Cardiff, with my father acting as branch treasurer more or less until he was too infirm to continue. He died in 2000.
My mother is now also very infirm but I am hoping she will still be well enough to see this article. As you can see, we certainly were an ILP household.
—-
Jeff Cuthbert is the National Assembly for Wales Member for Caerphilly.
More ILP anniversary profiles can be found here.