Hope not Hate are calling for voluntary and financial support for a 'final push' in their campaign to prevent UKIP winning key parliamentary constituencies in the general election.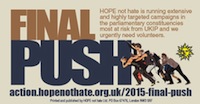 The anti-extremist organisation has identified 10 priority seats most at risk from UKIP and is running extensive and targeted campaigns in those areas to keep Nigel Farage and his party colleagues out of Westminster.
But they urgently need volunteers and donations to have maximum impact are asking for supporters to do what they can to help.
The priority areas range from Thanet in the south east, where Farage himself is standing, to Dudley in the west midlands, Rotherham in Yorkshire and Middlesbrough in the north east.
Hope not Hate shared a video imagining a day in the life of Farage to encourage people to give time and money, and are launching a social media 'Thunderclap' next Tuesday.
Called Manifesto, the film is made by young filmmaker Will Westerman and features music produced by Ben Gibbon, while the aim of the 'Thunderclap' is to send out a 'Not Voting UKIP' message to potentially millions of people at one moment via Twitter and Facebook.
"In 10 days' time Nigel Farage's UKIP will make an historic political breakthrough and potentially even hold the balance of power for a new government of the right … or we will stop them in their tracks in the key seats," say Hope not Hate.
"We are drilling down our campaign into our 10 priority areas. Whatever time you have, whatever your abilities, there is something useful you can do."
—-
Click here to sign up to help with Hope not Hate's final push.
Click here to donate to the campaign.