Like many on the left, the election result came as a nasty shock to JONATHAN TIMBERS. But despite the desperate outlook, he believes a future Labour government is possible if Labour becomes a very different kind of organisation.
Since the general election results were announced, there has been breast-beating aplenty and much keening from left-wing people; lots of tweets and tearful Facebook messages about the politics of greed and fear; quite a bit of questioning of the conscience and IQ of English voters. Some people are saying they do not expect to see another Labour government in their lifetime.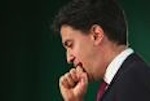 But I think we need to understand that the election results were not the final nail in the coffin of a social democratic Labour Party. They were a reasonable response to a Labour leadership that seemed lost outside its own heartlands – which were not Doncaster or Coventry, but IPPR research paper launch events – and the most adept Tory leader since Stanley Baldwin.
By looking at it this way, it is just possible to see, out of the corner of one eye, the possibility of a future Labour government. But for that to happen, Labour needs to become a completely different kind of organisation.
Economy
The most obvious reason the Tories won was the economy. I live in one of the UK's key marginal seats and unemployment in this constituency is down (or so the Tories claim) to 1.27%. There is a lot of under-employment and desperation hidden by that headline figure but even if it's not exactly good times, business is growing, slowly.
Nationally, the Tories have pursued a dual economic policy: austerity in public services but Keynesianism in infrastructure and business support. If you check the Planning Inspectorate website, you will see there are a huge number of major infrastructure projects underway, by and large power stations of one sort or another, many of them using renewable energy.
The Tories also appear to have an industrial strategy, which the Labour government couldn't bring itself to develop for fear of seeming too Old Labour (until the very end, at least, when recession forced it to act). It comes to something, doesn't it, when the Tories are leading the way with an industrial strategy?
As I was writing this article John Cruddas has pointed out that his policy review was decimated by Labour Party staffers who wrote the manifesto and that the review's economic alternative had no chance of coming across. As a result, Labour put forward a bits and pieces programme rather than a coherent analysis, and paid the price for doing so. Ultimately, people voted for the party with a clear economic plan. Labour didn't present one.
Stable government
We're told the final Tory surge came after the press put the frighteners on about a Labour-SNP government. 'Vote Ed, get Nicola,' was the cry.
The Guardian's John Harris interviewed one working class voter in Nuneaton who had a very interesting perspective. As far as he was concerned, Scottish free prescriptions and higher education were the result of English subsidies and he had no time for the SNP. There was clearly a lot of what Harris called 'low level grievance', which the Tories appealed to.
But I think what really frightened people was the thought of having an unstable government. It was widely reported that financial markets were reacting badly to the news that the UK election was unlikely to present a settled winner. With a brittle recovery underway, people voted not so much for a Tory government, but reluctantly for some government – in fact, any government, even if it was Tory.
If you look at it like that, Miliband's unconvincing declaration that there would be no deals with the SNP perhaps made Labour look worse in the eyes of the electorate – all he was promising was uncertainty. Not that cosying up to the SNP would have helped either. He was in a no-win situation.
Immigration and Europe
The Tories had a stronger line on immigration, which is a key working class concern, and they were always likely to get more out of this area than we could. The Blairite mantra that immigration is good for the economy and people ought to get real and tool themselves up to compete in a global marketplace isn't exactly the sort of thing you'd say down the pub and expect to leave in one piece.
Labour actually had a pretty good policy on immigration, targeting employment agencies which recruit solely from Eastern Europe, but they rather spoilt it all by focussing on benefits tourism, which underlined the Tory message about benefit cheats.
Labour's worst failure was on Europe. The Tories offered a referendum on membership but Labour opposed a popular vote on this most pressing of questions. John Mann MP, who has a strong connection to his working class voters in a former mining area, raised the issue of the EU's freedom of movement provisions (personally, I'd like to see free movement of capital in the mix too) and increased his majority in the process.
Miliband decided that the public couldn't be trusted to discuss Europe and come to the right decision, or at least that's how it appeared, and paraded his pro-business credentials by saying he would deny working class people a vote on the issue that most concerns them.
It is very telling that two Labour leadership candidates have come out in favour of an EU membership referendum and one of them, Andy Burnham,  seems to be demanding substantive changes to EU treaty law.
This has to be handled very carefully, though. Central and Eastern European workers are still workers, vulnerable to market forces since the collapse of the Soviet empire, and desperately in need of money. They should be encouraged to settle and local authorities must have more resources to help them become part of British society, with secure jobs and housing. What the left should aim for is regulated labour markets and cohesive communities, not institutionalised xenophobia.
Scotland
In his resignation speech, Miliband blamed his defeat on the rise of nationalism, but once again he failed to grasp that it was the Labour Party that lost Scottish support, not the nationalists who won it. In doing so, it handed Cameron the election on a plate by making a Labour majority government impossible.
Cameron completely out-manoeuvred Miliband after the referendum on Scottish independence by raising the West Lothian question (ie. Scottish MPs being able to vote on purely English matters when English MPs cannot vote on devolved Scottish ones).
Instead of jumping to the defence of the right of Scottish MPs to have the same voting rights as English or Northern Irish MPs, Miliband seemed to mumble something about the need for a 'constitutional convention' (from an academic point of view, he was absolutely correct, but the demand had no political traction).
This compounded the error of campaigning with the Tories in Scotland over the referendum on independence and the scandal of the then leader of the Scottish Labour Party resigning, claiming it had become nothing more than a 'branch' of the London office.
This was not the only occasion when Labour's centralised bureaucracy undermined its own chances of victory, but it was the most spectacular instance of Labour's internal organisation becoming a liability.
Working class vote
Labour's bureaucracy played a central role, not only in the alienation of Scottish voters, but in disengaging English working class ones too. To be fair, the situation in England appears to be more complex than Scotland. The working class is highly fragmented and its solidarity (which was rarely ever cast iron) is dissolving fast. This makes it easier for the Tories to exploit working class resentment about people on benefits and immigration, and make it much more difficult for the left to get its message over.
But where Labour's bemusement with 'white van man' was summed up by the infamous Emily Thornberry tweet, Osborne had a special unit devising policies to appeal to the self-employed working class. Apparently, it came up with policies about cheap petrol prices and lower cost hospital parking, especially to appeal to people who didn't have much contact with the state and relied on driving for their livelihoods.
Cameron's 'we are the party of plumbers and roofers' came out of this cold-hearted but effective ploy. And it worked. The Tories won in part because they used class politics to their advantage.
Labour's response was Douglas Alexander's 'four million conversations' strategy. If it had actually been about conversations that might have helped, but it wasn't, and it didn't. It was about teams of people (referred to patronisingly in party emails as 'Team Labour') going out and canvassing.
Occasionally, they might take along a petition or ask people about local issues, but it was a long way from taking a real interest in the community. The term generally used for this activity is 'voter harvesting'. While canvassing is vital, by itself it will never win an election.
Brought in by Miliband soon after he was elected leader, Arnie Graf tried to get Labour to become a community party. But Alexander got rid of him, dealing a death blow to Miliband's compelling vision of a Labour Party rooted in community activism.
True, it will take years for Labour to win over people through grass roots campaigning, so perhaps Alexander wanted a short-term fix, rather than a long term solution, as his job was to focus on the election. But what he got was a defeat so comprehensive that he even lost his own seat, so he has plenty of time to reflect now on whether he did the right thing.
The Tories, of course, had the media and a huge advertising budget, and the Labour Party had its membership. They could have made a bigger difference if the central bureaucracy trusted them to campaign in the community. But instead they developed a narrow role for them with as little autonomy as possible, focussing everything on messages from the centre and ultimately on Miliband.
Miliband
And that, of course is another reason we lost. Miliband did not convince voters in the way Cameron did. Electoral Calculus – one of the polling organisations with some remaining credibility – points out that in the final analysis the Tories won in part because they attracted Labour voters, but Labour failed to win a significant proportion of Tory ones.
Cameron was the Tories' best asset because he continues to make being Tory acceptable. He comes across as a modern day Baldwin rather than a Thatcher. Unlike Thatcher, he has no ideological baggage. He can be a liberal one day, and authoritarian the next; concerned about plumbers one morning, and then cracking down on welfare 'cheats' in the afternoon. Probably the one quote of his which will stand the test of time is his Baldwinesque description of the Anglican faith: 'it comes and goes – like radio reception in the Chilterns.'
For all the horror that we on the left may feel about policy pronouncements from his majority Tory government, Cameron is not a leather-jacketed Norman Tebbit. As Labour's Rochdale MP Simon Danczuk said, if people had a choice of who to have a pint with, they'd prefer Cameron to Miliband. And that would probably go for most of Labour's front bench too.
We need to be clear – Miliband was a feeble but well-meaning leader, but he wasn't responsible for losing the election. It was the Labour Party itself (its professional staffers, policy wonks and communnications experts) and it won't win another until it becomes an entirely different, more democratic organisation, which can have a proper dialogue with people, including its members, learn something from them, and change the hearts and minds of the public in the process.
—-