The Trade Union Bill published by the Conservative government today (Wednesday 14 July) is designed to damage the Labour Party financially and will poison relations between workers and managers, according to the GMB union.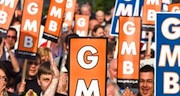 The Bill introduces turnout threshold of 50% for strike ballots, and requires unions in the health, education, fire, transport, water, security and energy sectors to win 40% support from all members eligible to vote.
As an article on the Left Futures website points out, this effectively means 80% of all those voting in a strike ballot must be in favour for the strike to be legal. "That would make almost all strikes illegal, particularly in large and dispersed workforces where postal ballots rarely achieve this," it says.
"The UK already has the most restrictive strike laws of any advanced economy, and adding to them by imposing what is effectively a ban on strikes altogether is dragging Britain down the path adopted by dictators and authoritarian regimes."
The Bill also requires unions to give 14 days notice for strike action and lifts the current ban on firms using agency workers to do the jobs of those on strike. What's more, if the Bill becomes law, trade union members will have to opt in to pay into their union's political funds, many of which support the Labour Party.
This is a "blatant one-sided approach" guaranteed to cause more trouble and could even bankrupt Labour, according to GMB general secretary Paul Kenny.
"The unintended consequence of the parts of the Bill dealing with strike action will be to seriously damage industrial relations," said Kenny. "The Bill removes all incentives for employers to heed their own workers and settle disputes.

"When workers jump through the draconian hurdles required for their vote for strike action to be lawful, employers can ignore the will of their own workers. Workers will have to give an employer 14 days notice of strike action. This is more than enough time for employers to legally hire another workforce to break the strike.

"This blatant one-sided approach is guaranteed to poison the relationship between workers and their managers. It will lead to even more trouble.

"The proposal on opting into the political fund is also one-sided. It is clearly designed to seriously damage the Labour Party. It is clear that the Tory Party high command intend to make the Labour Party bankrupt by cutting off the main source of funding that they have relied on since the 1930s.

"This is aimed at undermining political campaigning by unions on behalf of their members and communities. It is intended to reduce the ability of trade unions to provide funding including donations to political parties and campaigns.

"There are no proposals to force companies to ballot shareholders or to place a cap on donations from wealthy people when funding the Tory Party. Conservatives will be able to stuff their coffers with swag money from hedge fund tax bandits and then have the cheek to lecture trade union members about accountability.

"Since the early part of the last century trades unions have been the only organisations in the UK not allowed to spend their general funds to support political parties. Instead they have been required to set up political funds for that purpose.

"In the 1980s the Tories introduced further laws requiring trades unions to hold a postal ballot of individual members every 10 years on the issue. Since then, GMB members have on four occasions voted overwhelmingly to retain a political fund – the latest vote being in 2014.

"This is the second time that the Tories have aimed to bankrupt the Labour Party. They did it in 1928. The same old Tory class warriors want to do it again nearly 90 years later."
Trade Union Congress general secretary Frances O'Grady added her voice to the chorus of criticism against the Bill, calling it "an unnecessary attack on workers' rights and civil liberties that will shift the balance of power in the workplace".
"Getting a pay rise or defending terms and conditions will become far harder for working people," said O'Grady. "Even when ballots meet the government's new thresholds, employers will soon be able to break strikes by bringing in agency workers.
"If ministers were really interested in improving workplace democracy they would commit to online balloting. However, they would rather silence protests against their cuts to children's centres, libraries and social care services.
"These new restrictions on facility time will make it more much difficult for trade unions to solve problems at work before they escalate into disputes.
"Making it a criminal offence for seven people to be on a picket line is a waste of police time and not something you would expect in a country with a proud tradition of liberty."
—
More news from the GMB is available here.
All TUC press releases can be found here.