Despite what Alan Johnson says, the rise of Corbynism is a symptom of New Labour's failed legacy, claims ERNIE JACQUES.
You don't have to be Mystic Meg to work our why some prominent and outspoken Labour leaders are a bit miffed. People, young and old, disillusioned by the current Labour establishment, are joining the party in droves, wanting a say in the election of a new leader. So the Blairite wing of the party are in panic mode and have turned on the electorate, suggesting they are clowns who don't know what they are talking about, are in need of "heart transplants", are just a bunch of fifth columnists, or are juvenile and delusional.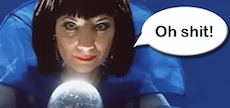 John Mann MP wants the election suspended because, he claims, the 'hard left' (a loose, ill-defined notion) and Militant-like subversives have hijacked the voting process. Former home secretary Alan Johnson has joined the bandwagon, urging Labour Party members to "end the madness" of Corbyn-mania while turning on those trade unions who had the temerity to recommend him as their preferred candidate.
"What I'm puzzled by is why it should come from trade union leaders whose members benefited so much under the last Labour government," wrote Johnson in the Guardian on 4 August.
Well, if Johnson repeats this statement often enough he may actually believe it, but hundreds of thousands of trade unionists and working people who lost their jobs certainly won't. These people are now part of a growing precariat – without stable employment who through no fault of their own find themselves unemployed or working on temporary, zero-hours and minimum-waged contracts.
This social phenomenon can be linked back directly to deregulated labour markets and privatisation, started under Margaret Thatcher but continued by subsequent governments and pursued with alacrity by the Blair and Brown administrations which Alan Johnson served in.
As a former general secretary of the Communication Workers Union (CWU) Johnson ought to know full-well that throughout these New Labour years of trade union 'benefit', the percentage of employment costs paid in wages declined dramatically, while the share of national income going to capital grew exponentially.
It was Labour's business-friendly, trickle-down economics that gave the green light to an avalanche of public service cuts and outsourcing programmes which speeded up the decline in union membership and collective bargaining arrangements and facilitated the atomisation and exploitation of large numbers of vulnerable jobseekers.
In the name of modernity and efficiency, Labour played a key role in restructuring the UK economy, leading to the fragmentation of the working class, and helped create the unbalanced and plutocratic casino-type society we live in today.
Labour's legacy
Labour's legacy is not a one nation and inclusive society, but a society shaped like a hideously misbalanced pyramid, made up of:
a wealthy few
a professional middle class, enjoying relatively secure employment, decent incomes and good working conditions, but which is shrinking fast
a new under-class of what professor of human development Guy Standing calls the precariat – a growing number of employees and self-employed contractors who have little or no job identity, career prospects and opportunities, and are without many of the employment rights (holiday, sick and redundancy pay, pensions and protection from management dictates and bullying) which trade unions won over many decades and previous generations took for granted.
These people are forever struggling to pay their way, feed their families, pay the rent, meet the challenge of un-manageable debt, and stave-off eviction and homelessness. It's a long way from New Labour's 1997 promise that "things can only get better".
While it is true that the Blair and Brown administrations did introduce some social democratic and progressive policies, such as the national minimum wage, tax credits and Sure Start, these proved to be mere sticking plasters, far outweighed in their effect by:
the cost of the ghastly and illegal Iraq war that left the middle east in turmoil and at war with itself, with millions dead and tens of millions homeless and destitute, plus swarms of refugees seeking refuge in Europe
wage cuts, privatisation and outsourcing of jobs
the private finance initiative which has enriched big business immensely while indebting our hospitals and schools to the tune of hundreds of billions of pounds.
the deregulated banking system, riddled with bad practice, miss-selling, corruption, money laundering and tax avoidance, for which the tax-payer (all of us) picked up the bill, while those responsible got huge bonuses and became super-rich.
Quantitative Easing, or printing money and injecting billions of pounds into a broken banking system that further enriches the wealth of asset holders, bond and currency traders, non-dom owners, money launderers, tax avoiders and all those whose greed and illegal behaviour caused the financial crisis in the first place. This money is now either salted away in tax heavens or re-invested in property, pushing up house prices and rents, leading to an exodus of the impoverished from the cities, towns and communities they grew up in.
In 2010 George Osborne wasted no time building on this neoliberal agenda, using the fiscal deficit to privatise faster and further, to attack the welfare state and to make the working poor, the unemployed and the disabled pay for the greed, illegality and hubris of the City, big corporations and their political accomplices in Westminster.
The Labour establishment's solution to the Tory government is, basically, 'no change', a view echoed in Gary Kent's article on this website, 'Get Real: Corbyn and the Delusional Left'. But, in Jeremy Corbyn, we may actually get a Labour leader who is anti-Trident, committed to sensible defence without nuclear weapons, a leader who will not send UK citizens to fight foreign wars at the behest of a US president.
We may get a leader who wants to re-nationalise rail and utilities, who is willing to use the state to invest in public services, offering a living wage, good working conditions and quality community services, who may create NHS and education systems that eschew the toxic influence of the private sector and big money. Such a programme seems attractive to me.
Some, such as shadow chancellor Chris Leslie on BBC Radio 4's World at One, question the affordability and inflationary impact of such a programme. But maybe he should consider why we can print £375 billion for the benefit of the City but cannot afford to invest public money in education, quality job training programmes, community services, social housing and infrastructure projects, which could pay rich dividends in job creation, and in regenerating deprived towns and neighbourhood communities across the UK.
It is for these reasons that Jeremy Corbyn is changing the political landscape, connecting with and offering hope to young, old and non-voters who have long since despaired that balance, fairness and social justice is achievable via the Labour Party.
—-
See also:
'The Revolt No-One Saw Coming', by David Connolly
'Get Real: Corbyn and the Delusional Left', by Gary Kent
'Labour's Leadership Election: A Problem Foretold', by Will Brown