A collection of Yorkshire-based organisations are calling for people across the north to come together on 7 November for a half-day "conversation event" to discuss what kind of region they want to live in.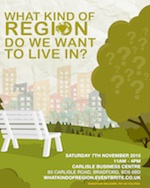 Held in the Carlisle Business Centre in Manningham, Bradford, this will be the first in a planned series of activities to make links between people and create new ideas.
It aims in particular to provide an opportunity to hear the voices of people who feel like their hopes and ideas for a better, more socially just region haven't been reflected in discussions about regional democracy, devolution and the Northern Powerhouse.
"It doesn't matter if you think of the place you live as being in the north, in Yorkshire, in West Yorkshire or all three," say the organisers, who include Leila Taleb of JUST West Yorkshire, Ed Carlisle from Together for Peace, Barry Winter of the Hannah Mitchell Foundation and Rod Dixon from Red Ladder.
"As people living in places across England's north, we have no choice but to work together to bring back the authority and responsibility we need to look after ourselves and each other. No one is going to do it for us."
There will be no guest speakers and all participants can suggest conversations on the day itself. Participants may then decide to take further action together following the event. And it may lead to further similar events.
The questions they are hoping to discuss include:
What kind of region do we want to live in?
What good things are happening near you?
Who makes the decisions that affect your life?
The event is open to and welcomes anyone who is making their life here now.
What: What kind of region do we want to live in?
Where: Carlisle Business Centre, 60 Carlisle Road, Bradford BD8 8BD
When: 11am-4pm, Saturday 7 November 2015
The event is free, but organisers are encouraging people to pay what they feel they can afford to help cover the costs. Childcare will be available.
—-