Anti-extremist campaigners Hope not Hate are launching a voter registration drive in November to prevent "the biggest single act of disenfranchisement in our history".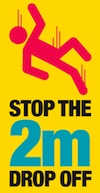 The government's rushed changes to the way we register to vote could mean up to two million people will drop off the electoral register, joining another eight million who are not on the register at all, say Hope not Hate.
That's almost one in five of all eligible adults who won't be able to vote – "a national scandal", according to the organisation's Nick Lowles, and one happening against the advice of the government's own election watchdog, the Electoral Commission.
The voter drop off is happening because of the government's insistence on bringing forward the full introduction of individual electoral registration by 12 months to 1 December 2015.
This means anyone whose registration details have not been matched with HMRC and DWP records has been asked to re-register with their national insurance number, while new voters are also required to register individually.
Constituency boundaries are also due to be withdrawn, based on the new register, reducing the number of parliamentary seats from 650 to 600.
"With a disproportionate number of those dropping off being from poorer and non-white communities in urban areas, there are inevitable concerns that the new boundaries, based on an under-representation of specific demographics, will undermine confidence in the robustness of our democracy in future general elections," say campaigners.
In response, Hope not Hate is pulling together a broad range of organisations from around the country – including the Electoral Reform Society, Unlock Democracy, Involve and the Democratic Society – to run a huge voter registration drive in November, backed up by a massive social media campaign to spread the message.
"Why is this a Hope not Hate issue?" asks Lowles. "When people lose faith in the system or their ability to make change through the democratic process, they become easy prey for extremists.
"Voting is the lifeblood of any democracy, so it's vital that as many people are on the register as possible. Where people can't vote, disaffection sets in. Where disaffection sets in, then extremism has a fertile breeding ground.
"Those most likely to be dropping off as well as those most likely not to be on it at all – are from poorer communities, living in private rented accommodation, the young and students, and those for whom English is not their first language. In fact, it is the very groups in society that need their voices most heard.
"This summer the British government proudly celebrated the 800th anniversary of the Magna Carta. How ironic then that this year will also witness the biggest single disenfranchisement in British history. That is, unless we civic society groups get organised and start registering the 10 million people who will shortly be without a voice."
Hope not Hate is asking people to sign up online to its voter registration campaign, as well as using social media via the Twitter hashtags #MissingVoters and #NoVoteNoVoice.
It has devised a series of 'how to' guides to support people running registration drives, and has a team of organisers to provide help and advice.
—-
Sign up to the voter registration campaign here.
A full report on the changes and the implications for democracy is available here.