CATRIONA BURNESS marks the centenary of the Glasgow rent strikes with a narrative account of the life of Mary Barbour, the ILPer who lent her name to the 'army' of women who led resistance to profit-hungry property owners 100 years ago.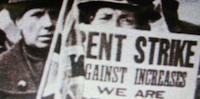 A century ago the Govan Press reported remarkable scenes at a demonstration connected to the 1915 rent strike:
"Headed by a band of improvised instruments, including tin whistles, hooters, and a huge drum, the procession aroused a good deal of interest. The majority carried large placards with the words: 'Rent Strikers: We're not Removing'."
Men, women and children were involved; but it was the women who were nicknamed 'Mrs Barbour's Army'. That was a tribute to Mary Barbour's leading role in mobilising working class families, especially women, to challenge the power of landlords and the state. It was a struggle that ultimately proved successful, leading to the passing of one of Europe's first rent restriction acts.
Born in Kilbarchan in 1875, Mary Barbour was the third of seven children. Her father James Rough was a handloom weaver and later a carpet weaver. In 1887, the family moved to the village of Elderslie and Mary gained work as a thread twister, eventually becoming a carpet printer.
On 28 August 1896 she married David Barbour from Johnstone. Their first child David, born a few months after their marriage, died of meningitis at the age of 10 months, a loss likely to have shaped Mary's deep interest in health and housing issues.
Although David Barbour also came from a textile family, he was at this time a journeyman iron turner. His employment took the family first to Dumbarton and then to Govan. According to the 1901 census, they settled at 5 MacLeod Street, Govan, but 10 years later  later were living at 43 Ure Street, by which time Barbour was a shipyard iron turner and they had two sons, 11-year-old James and William, aged six.
Like many of her generation, Mary became active in a range of organisations. She first joined the Kinning Park Co-operative Guild, which offered its members a structured political education. It also linked her to campaigns against poverty, making specific policy demands around issues such as maternity benefit, education, the vote and a national minimum wage. She also became involved in the Socialist Sunday School and the Independent Labour Party.
By 1914 she had become the "leading woman in Govan" within the new Glasgow Women's Housing Association, formed to address Glasgow's greatest social problem, housing.
After the First World War started, the demand for war and munitions work brought an influx of workers into Glasgow, and property owners were swift to cash in. They took the opportunity to raise rents in working class areas, triggering the rent strike.
Mrs Barbour's Army
Historian James Smyth notes that Govan was "the major bulwark of the struggle". Helen Crawfurd, one of the key players in Glasgow's radical politics, described the tactics used during the strike:
"Whenever the Bailiff's officer appeared to evict a tenant, the woman in the passage immediately rang the bell, and the women came from all parts of the building, some with flour, if baking, wet clothes, if washing, and other missiles. Usually the Bailiff made off for his life, chased by a mob of angry women."
Mary Barbour was involved in every aspect of the activities and played a leading role in shaping the campaign, as Crawfurd describes:
"In Govan, on one occasion, where a woman had been persuaded by the House Factor to pay the increase, having been told that the other tenants had paid, Mrs Barbour got the men from the shipyards in Govan to come out on to the street where the House Factor's office was, and then went up with the women and demanded a return of the money. On the Factor being shown the thousands of black-faced workers crowding the street, he handed it over."
By November 1915 as many as 20,000 tenants were on rent strike in Glasgow and strike activity was spreading nationwide. The ILP activist, councillor and journalist Patrick Dollan writing as 'PJD', was tireless in publicising the spread of the strike, asserting in October 1915 that "the Glasgow tenants are going to win".
The decision by a Partick factor to prosecute 18 tenants for non-payment of a rent increase brought the crisis to a head. The case was heard in Glasgow's Sheriff Court on 17 November 1915. Many of those in arrears were shipyard workers. There were strikes in support and deputations sent to the court, while thousands demonstrated outside.
The cases were dismissed amid news of imminent ministerial intervention. Within a month the Rent Restriction Act had been passed, fixing rents at their August 1914 level, and the rent strike's place in history was assured. According to James Smyth "it may well have been the most successful example of direct action ever undertaken by the Scottish working class".
Barbour's involvement in this struggle made her a local hero in Govan and much further afield. She gained further experience in the wartime Women's Peace Crusade, and in 1920  the ILP acknowledged her powerful local presence by selecting her as one of its municipal candidates for the Fairfield ward in Govan.
The 1920 municipal election campaign was one of the first at which some women over 30 were allowed to vote. It was also the first following Lloyd George's memorable post-war promise to create 'homes fit for heroes'.
Barbour's manifesto covered household issues such as adulterated food, a municipal milk supply, abolition of wash-houses, the provision of public wash-houses, and child welfare centres where young children could play instead of having to remain inside a tenement. She hoped workers would press demands "not only for better homes, but for a higher standard of living generally".
First for Govan
Barbour and four other women were elected to the Glasgow Corporation, the first women elected in the city since the passing of the 1907 Act, which enabled women to be elected as town or county councillors. The entry for Mary Barbour in the New Dictionary of National Biography (DNB) states that "she polled 4,701 votes, mainly from women, and was elected to Glasgow town council as their first Labour woman councillor".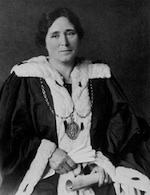 This entry has contributed to the misapprehension that she was Glasgow's first female councillor, or at least the city's first woman Labour councillor. However, press reports at the time, and the Glasgow Corporation records, make it clear that a group of five women were elected in 1920. In addition to Barbour, Eleanor Stewart became ILP councillor for Maryhill while Jessica Baird-Smith, Mary Bell and Mary Anderson Snodgrass were returned as Moderate councillors.
The original source of the error seems likely to be Patrick Dollan, Barbour's party colleague whose History of Kinning Park Cooperative Society Limited, published in 1923, described her as "the first Co-operative woman elected to the council" and the "first Labour woman to be elected to Glasgow Town Council". The DNB list of sources includes Dollan's book, so perhaps a busy man's slip of the pen rewrote history.
In any case, the Govan Press hailed Barbour as "Govan's first women councillor", adding that "her work will be closely scrutinised". A week later the paper reported that she emphasised the Labour Group were there for "a particular purpose" – "to get the most out of the municipal administration of the city". She had already discovered that the real work was done in the committees and that "the women had plenty of work to do and from now on would be in the Council Chambers every day".
In 1924 Barbour set two other milestones for women in public office when she became both a bailie and a magistrate. Dollan told the press that "he was pleased to have the distinction of introducing the first fully fledged woman magistrate of the City of Glasgow".
Barbour's focus on families continued and in November 1926, at the opening of the new Elder Park Child Welfare Association, she informed the audience that the clinic was "not merely a child welfare centre, but an institution for 'mother-craft' – and 'father-craft', too".
Her support for Glasgow's first birth control clinic was more controversial, however, as it went against the voting record of her socialist MP colleagues, none of whom had supported the Birth Control Enabling Bill in 1922. Nevertheless, the Glasgow Women's Welfare and Advisory Clinic opened in August 1926 at 51 Govan Road to give advice to married women on family planning.
In 1931 Barbour opted to stand down as a councillor at the age of 56, stating that she felt "the difficulties ahead required young and strenuous fighters". Eight women were elected to Glasgow Corporation that year (7.2 per cent), two Moderate and six Labour. The Glasgow Herald reported that "all the Labour women candidates met with success". It can be safely assumed that Barbour would have been both selected and elected had she stood again.
A great leader
Outstanding questions remain over Mary Barbour's career, over why she stood down as a councillor, and there is a need for more information on the campaigns she was involved in. In that sense I am still looking for Mary Barbour.
When she died in 1958, Bailie Jack Davis wrote an obituary for the Govan Press, noting that:
"There are women in Govan today who think of Mrs Mary Barbour as one of the great leaders of the Labour Movement who truly represented its spirit and purpose, and I am inclined to agree with them… Mrs Barbour has been out of the limelight of public affairs in this city for many years now but there never was a more revered and loved local leader than she was in the heyday of her active life."
The obituary also mentions that "women voluntarily took on hand to do the housework of Mrs Barbour to enable her to devote herself fully to the service of the people" – a practical and unusual tribute.
Direct and forthright, Mary Barbour emerges as a strong, energetic and convincing campaigner who helped to make the world a different place from the one in war-torn crisis in 1915. Her role in the rent strike was crucial to its success and won her fame. In elected office she sought to implement the ILP and co-operative household agenda. She is worthy of being remembered – and of being commemorated by a statue.
—-
This article is adapted from the introduction to the programme for a new play about Mary Barbour, called Mrs Barbour's Daughters, showing at Glasgow's Tron Theatre from 4-7 November.
The Remember Mary Barbour Association is campaigning to see a statue raised to Mary Barbour as a lasting memorial to one of Glasgow's greatest heroes. Click here for more information or to donate to the campaign, or email info@remembermarybarbour.com.
Click here to read more ILP Profiles.