New postcards of the ILP's famous mural from its 1914 'Coming of Age' conference are now available from the ILP website.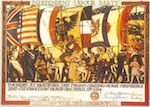 The well-known design, which proclaimed socialism as 'the hope of the world' and was signed by Chairman J Keir Hardie, was first unveiled at the Bradford conference held on 11 April 1914, just before the outbreak of World War One and 11 years after the Independent Labour Party's formation in the same city 11 years previously.
The postcards can be ordered in batches of three for £1.60 a pack.
Go to the Publications page on this website or click here to order by Paypal using debit or credit card.
Alternatively, order by post from ILP, PO Box 222, Leeds, LS11 1DF with cheques payable to 'ILP Trust'.
—-