Hope not Hate is calling on supporters to help offset some of the losses it expects to suffer as a result of the Tories' Trade Union Bill.
The proposed legislation, which is currently going through Parliament, will greatly reduce the ability of trade unions to fund campaign groups, and this could cost Hope not hate up to £125,000 a year.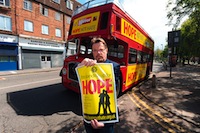 That makes up the bulk of its campaign funds, and Hope not Hate  is asking supporters to donate a minimum of £1 a week. If 1,000 people do so on an ongoing basis the campaign group can make up half the expected loss and continue its work, it says.
Commedian and Hope not Hate supporter Eddie Izzard is fronting the group's appeal.
"Hope not hate has achieved so many great things over the years," he said. "The defeat of the BNP, bringing communities together in the face of EDL provocation and more recently preventing UKIP winning more seats in May's general election.
"None of this would have been possible without money, so the prospect of losing more than £100,000 a year in funding will put an end to these campaigns in the future. The threat is as serious as that.
"If you like Hope not hate and everything it stands for, then join me in chipping in £1 a week to ensure it can continue its work."
You can make a donation to the campaign by clicking here.
—