Glasgow rent strike leader and pioneering ILPer Mary Barbour will be celebrated at the Working Class Movement Library in Salford on International Women's Day as part of Manchester's 'Wonder Women' feminist festival this March.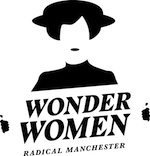 Barbour was a social reformer, rent strike leader, women's peace crusader and groundbreaking councillor who worked tirelessly to change laws to help families in poverty.
Her capacity to mobilise working class families, especially women, to challenge the power of landlords and the state during the 1915 Govan rent strike led to the passing of one of Europe's first rent restriction acts. She also fought for free school milk, children's playgrounds, municipal wash-houses and an end to slum housing.
The talk on Saturday 5 March will be led by Catriona Burness whose profile of Barbour can be read on this website. This free  event will also include a discussion on current related issues.
Wonder Women is an annual festival in the birthplace of the sufragette movement that seeks to "shine a light on some of the incredible, creative and campaigning women working in and from Manchester today". The 10 days of events, debate, music, art, gigs, profiles and more takes place this year between 3-13 March. The full line-up is due to be announced later in January.
Other forthcoming events at the WCML include 'To End All Wars', an exhibition marking the centenary of the introduction of conscription in early 1916; a performance of No Power on Earth, about Salford conscientious objector James Hindle Hudson, on Wednesday 2 March and Saturday 5 March; and 'Communities of resistance: patterns of dissent in Britain during the First World War', a talk by Cyril Pearce as part of a new series of 'Invisible Histories' Wednesday lunchtime discussions.
What: Remembering Mary Barbour – social reformer, rent strike leader, women's peace crusader and pioneering woman councillor
When: 2-4pm Saturday 5 March 2016
Where: Working Class Movement Library,  51 The Crescent, Salford, M5 4WX
Who: Catriona Burness
—-
More details of WCML events can be found here.
See also: 'ILP Profiles: Mary Barbour – Govan's Local Hero', by Catriona Burness