An array of speakers has been lined up for the Leeds launch of Lewis Minkin's new book The Blair Supremacy on Friday 4 March, including the author himself.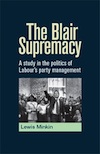 Minkin's latest study of the Labour Party investigates "the processes, methods, character and politics of party management" during the Blair years, when the leader "drove the party through a ferment of new developments under the name 'New Labour'".
Minkin's previous books include two widely acclaimed and original studies on the Labour Party – The Labour Party Conference and The Contentious Alliance: Trade unions and the Labour Party.
According to the publishers, Manchester University Press, his new book is "revealing and at times startling", uncovering "an extensive covert internal organisation, a culture which facilitated manipulation and what can be described as a rolling coup".
"These developments," say the publishers, "are rigorously and critically examined with a strong focus on three fundamental questions: How were these changes achieved? Was it, as it was often represented, a complete supremacy? Why did it end so badly with Blair being forced, in effect, to step down?"
The book launch, at Seven Arts Centre in Chapel Allerton, features Minkin himself, visiting Honorary Professor in the School of Politics and International Studies at the University of Leeds, plus contributions from:
Hugo Radice: Life Fellow at School of Politics and International Studies, Leeds University, Dales branch Labour Party secretary, Richmond CLP
Sheila Banks: Public and Commercial Services union, director of Leeds Credit Union, former President of Leeds Trades Council
Barry Winter: ILP, Leeds Taking Soundings and Hannah Mitchell Foundation
Sarah Perrigo: former lecturer in Peace Studies, special interest in international human rights and gender politics
Liz Minkin: political activist and musician, former Leeds city councillor
Michael McGowan: former Labour MEP for Leeds and President of the Development Committee of the European Parliament.
What: Book launch, The Blair Supremacy: A study in the politics of Labour Party management
Where: Seven Arts Centre, Chapel Allerton, Leeds LS7
When: 7pm, Friday 4 March 2016
Who: Lewis Minkin and others.
—-
For further information about the event contact Michael McGowan: tel: 0113 2621654 or email: mcgowan.michael@ntlworld.com
The Blair Supremacy: A study in the politics of Labour's party management, by Lewis Minkin, is published by Manchester University Press. Priced £26.99 paperback. Click here for more information or to buy the book.