Trade unions are in a spot of bother, according to SHEILA BANKS. And Labour is partly to blame. The party needs to find a new way of connecting to union members that taps directly into their workplace experience.
Throughout my working life, I have been an active trade unionist and representative. Since retiring my involvement has continued through the PCS union's retired members' network. So I want to look at Labour Party democracy from that standpoint.
It pains me to say it but trade unions in this country are in bother. Only six million people belong to a trade union out of a working population of 31 million. A significantly higher number have the benefits of working in a unionised workplace and being covered by collective bargaining, while not being members themselves, but this still leaves two-thirds of the workforce non-unionised.
Government action and inaction has largely been responsible for this decline, which is due to our complete submission to the will of global capital. This includes anti-trade union legislation, allowing manufacturing to go into decline, privatisation killing off vast swathes of the public sector, and the general deregulation of employment.
While all of this should be the business of the Labour Party in terms of policy in government, it is really a matter for the trade unions to address. However, if like me, you want to retain and strengthen the links between trade unions and the Labour Party, then it's important to recognise the present picture.
In the past, trade unions big and small directly sponsored many MPs and Labour members of the House of Lords, from their candidature to the end of their political careers. These were generally, but not exclusively, rank-and-file members of the union honing their politics as they went along. This model gave workers, via their union and the party, recognition and influence in the legislative process.
While this model was in decline, along with the fortune of the unions, it took New Labour to finish it off and bring us to the existing relationship model which can be summarised as "Give us your money but don't try to tell us what to do with it."
I'm sure this audience recognises and deplores the elitism in our society, of which the Tory Party is simply a microcosm. That small band of old families and wealth, private schools and Oxbridge – getting on not by what but who you know. The direct result of this is a Tory government with a total lack of understanding of the lives of ordinary people.
Familiar pattern
Sadly, when I look around my party I see a similar pattern. Maybe not many old families, wealth and private schooling, but going from school to studying politics at certain universities, into party internships and then – and I use the term loosely – selection as candidates. The starting point may be different but the outcome is much the same: a total lack of understanding and representation of the lives of ordinary people.
Don't get me wrong, I do not believe that you have to work down a pit or in a sweatshop to know what it's like but equally I don't believe that studying political philosophy and living in and around the fringes of the Westminster bubble can tell you how it feels to be doing three jobs while not know where your child's next meal is coming from.
While I want MPs who are professional, competent and able to perform on the world stage, this must be tempered by an understanding of people's lives. Consideration of the impact of policy on people should be integral to the development process, not an afterthought.
Because of the present state of the unions we can't simply look to return to the old model of sponsorship of MPs and wouldn't want to, as the world is a very different place. But when New Labour broke the link with the unions they threw out not only the bathwater but also the baby.
I believe we need to find a new model which allows the party to tap into that well of socially and politically savvy workplace reps who have direct experience and understanding of the human condition and who are at the forefront of fighting this government's austerity programme.
Crucially, I want to add another ingredient. None of the previous models of selecting candidates have done anything to address the under-representation of women. Let's tackle that as well, shall we?
—
Sheila Banks of the Public and Commercial Services Union is a former president of Leeds Trades Union Council, and a long-term member of the Labour Party.
This is an edited version of a talk given at the Leeds launch of The Blair Supremacy in March.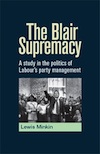 The Blair Supremacy: A study in the politics of Labour's party management, by Lewis Minkin, is published by Manchester University Press. Priced £26.99 paperback. Click here for more information or to buy the book.
See also: 'Assessing the Blair Supremacy' by Barry Winter;
'Blair, Management and Neoliberalism' by Hugo Radice; and
'Blair, New Labour and the Party's Crisis' by Sarah Perrigo.