The EU referendum campaign has hardly been inspiring. For the left it poses some awkward questions with few simple answers. DAVID CONNOLLY casts his eye over some of the better contributions and opts to vote Remain. Just.
There can be few people on the left who aren't finding the EU referendum campaign a pain in the backside. Realistically, this debate was never going to be highly nuanced or particularly sophisticated but the torrent of misleading statistics and highly contentious predictions from both sides has been crude, to say the least, all topped off with a hefty dose of racist scaremongering by some leaders of the Leave campaign.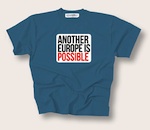 In fact the most considered statements have come from the left with important contributions from Jon Bloomfield, Yanis Varoufakis, Enrico Tortolano and Jim Sillars, among others, but nationally the argument has been dominated by essentially right wing visions of the future. For a variety of reasons a distinctive Labour Party voice has struggled to be heard, at least to date.
As for the vote itself, we are caught between the proverbial rock and a hard place. If we vote Remain, for me, it feels like we are turning a blind eye to the heinous handling of the Greek crisis by the EU elite. But if we vote Leave, as a protest against that kind of policy, we could end up with the dreadful Nigel Farage triumphant on 24 June – it's not exactly an enthralling choice.
For what it's worth I will be voting Remain on the basis that a Johnson/Gove/UKIP victory represents the most negative outcome for domestic politics, a likely further lurch to the right with added xenophobia.
But as Gary Younge recently put it in the Guardian (1 June), "In the absence of a broader challenge to the neoliberal order, simply voting yes or no is tantamount to choosing a ditch to die in. I choose the ditch that offers free movement of people, limited labour protections and a court of human rights. I make no great claims for that ditch – how can I, when I share it with David Cameron and George Osborne? But I'm not in it so deep that I can't see that there's a valid argument on the other (Left) side."
—
David Connolly is chair of the ILP and writes in a personal capacity.