A universal basic income could be one of the big progressive policies at the next election according to campaign group Compass which has published a report on the issue, saying it's "an idea whose time has come".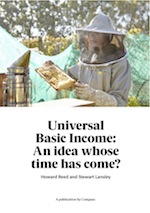 Shadow Chancellor John McDonnell attended the report's launch in London on 6 June, and called on the group to build pressure for it. Green MP Caroline Lucas and MPs from the Scottish National Party, such as Neil Gray, were also present. Both parties are backing basic income and, in particular, the Green Party has pioneered the idea.
At the launch, Compass member Ruth Lister, Professor of Social Policy at loughborough University, said: "We have a social security system that offers no-one security." According to Compass, the report offers a desirable but feasible way to make all of us secure in the 21st century.
The report also featured in this report in the Guardian and in an editorial piece in the paper.
The report, written by Howard Reed and Stewart Lansley, is available here.
—