IAN BULLOCK's recurring nightmare is that the Labour Party will end up like the ILP at the end of the 1930s – with a leader who could do no wrong in the eyes of an adoring membership, but with little or no political influence, let alone power. 'But at least Jimmy Maxton was a brilliant orator!'
In the leadership election last year I voted for Yvette Cooper, but I gave Jeremy Corbyn credit for giving the Labour Party a very necessary 'wake-up call'. In fact, once I was sure he was going to win easily I voted for him as my second choice as I found Andy Burnham difficult to pin down and Liz Kendall insufficiently radical.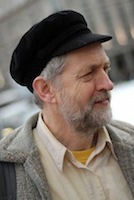 I thought all three contenders apart from Corbyn lacked sufficient inspiration and radicalism. Cooper seemed the best of a not too inspiring lot. I think her refugee work since has gone some way to vindicating this judgement. Corbyn did at least seem to be generating some enthusiasm. My doubts about him at that stage centred on his membership of the Campaign Group and his seemingly unreconstructed Bennism. His apparent radicalism seemed – at best – of a 20th century variety.
What I wanted to hear from candidates was how they proposed to tackle 21st century issues – climate change, rapid technological advance and the changing nature of employment; reviving areas of Britain devastated by Thatcherite de-industrialisation; reversing growing inequality; trying to make the world a safer and fairer place; introducing necessary constitutional reform in the UK.
My ideal candidate would certainly be on 'the left', but a left more in line with Alec Nove's 'feasible socialism' than any variety of the Leninist canon, however watered-down – which is how (rightly or wrongly) I see Corbyn, McDonnell, et al.
I enthusiastically welcomed the idea that Labour should be a real social movement as well as a party for winning elections. I also recognised that my gut reaction might be too rooted in the past and I was very willing to give Corbyn a fair crack, although his early appearances in the media seemed very inept. I hoped they might improve. Sadly they haven't very much. He does get it more or less right sometimes, but not with any consistency.
I wanted to hear ideas about how to make technological advance work for people by guaranteeing their incomes and providing for the retraining of those faced with technological redundancy. I wanted to hear that the idea of a citizen income was being looked into carefully.
And I wanted to hear more about climate change. In something I was re-reading recently the writer talked of the irresponsibility of capitalism towards the future, of "forests, which can perhaps never be replaced, swept away, in every direction, to the permanent injury of the climate". Who was that? Henry Hyndman in chapter 2 of his England for All. He was writing in 1881 , for God's sake, when he was still cautiously moving towards socialism.
After JC's election I was pleased that so many MPs were prepared to join the shadow cabinet while respecting those who honestly felt that they couldn't work with him. But I was horrified by the creation of Momentum. Having experienced a Labour party ward under the control of Militant years ago, I was bound to be apprehensive, though I recognised that most people joining the new organisation were simply new or returning party members attracted by the idea of getting back to Labour 'basics'.
But I suspected, and still suspect, that many of the key figures in Momentum are not so very different from the 'entryists' of old. In any case, the point was – or should have been – to turn the Labour Party itself into more of a campaigning social movement rather than to set up yet another factional organisation, much as Owen Jones argued the other day. I can see that Momentum represented Corbyn's 'insurance policy' in an insecure situation where few of the PLP supported him – and it's turned out to be a very effective one. But even so, how was this an example of the 'new, kinder, politics?'
Personality cult
I think that Corbyn is a sort of 'accidental' leader – not only because he had to rely on nominations from MPs who didn't really support him, but because he became a sort of lightning conductor for so many who wanted to see a more robust and inspiring Labour Party. As is evident from a number of statements made by MPs who tried to make his leadership work in the shadow cabinet, he has not proved an effective team-player, never mind a team leader.
It seems to me a perfectly reasonable provision that all contenders should be able to demonstrate at least minimal support from the PLP. After all, leading the parliamentary party is still one of the main functions of the party leader and not an unimportant one. It is a great shame that the rules are not clearer on this and the NEC took the decision it did by a relatively narrow vote, in spite of fact that the bloke who drafted the rule said it was meant to  apply to all contenders.
I think there has been some opportunistic exaggeration of anti-Semitism, misanthropy and so on, but that does not mean such charges are always without foundation. There's certainly an absence of sensitivity in these areas. It is a strange kind of 'kinder' and 'new' politics that seems to boil down to factionalism, intimidation and personality cult – too much like the 'old' politics of yesteryear.
When I first heard about the vote of no confidence my immediate response was 'I just hope they have thought this one through.' It's pretty clear they hadn't. I think Andrew Rawnsley in the Observer got it more or less right when he said it was an act of despair rather than a carefully planned coup. And if they thought JC would step down they clearly don't understand where he is coming from.
I think Corbyn relates, not to the Labour Party or to a wider democratic socialism, but to a fuzzy concept of 'the left', which includes, uncritically, the SWP and the rest of the Trotskyist organisations, along with much well-intentioned general 'leftism' and of course the Stop the War folks. It's a 'left' which happily supports dictatorships and authoritarian leaders as long as they call themselves socialists.
I don't blame Corbyn for the appalling referendum result. There are plenty of other candidates for chief villain, starting with Cameron. But he and his supporters can't have it both ways. They say he campaigned really hard for 'Remain'; his opponents say he was half-hearted. Either way the result suggests he was ineffective. A clearer and more energetic lead from Labour might have made the difference. After all, the result was pretty close.
My limited personal experience
My ward, which is part of Caroline Lucas's Brighton Pavilion constituency, has held several Labour ward meetings since Corbyn's election, hoping to see a good turn-out from the many new members who have joined up since. Few have turned up and those who did were horrified when the ward chair started talking about canvassing (foolishly, I thought, remembering Middleton Murry's comment that the Catholics would never treat a convert the way the ILP did. Murray, briefly a stalwart of the post-disaffiliation ILP, makes a few appearances in my book on the interwar ILP – Under Siege – due out in a few months time.)
Many of the new members are said to be young but it is still me – at the age of 75 – who delivers the leaflets at our end of the ward, despite appeals for new volunteers to take on such tasks. I gather Brighton and Hove now has the largest Labour Party in the UK, although there's not much evidence of it in practice, apart from when they turn out in force to cheer on the great leader.
I attended the Brighton and Hove Labour Party AGM meeting on Saturday 9 July – subsequently 'suspended' and subject to investigation by the party. It took place at the full-to-capacity hall at City College where I used to work. I found the behaviour of some of the audience childish and inappropriate at a serious meeting – whooping whenever Jeremy Corbyn's name was mentioned, as it was by many of the candidates for office who seemed to believe supporting Corbyn was the only recommendation needed for what are sometimes quite 'technical' positions.
I can't honestly say I felt intimidated – as distinct from irritated – but I can understand that other people might have been. It seemed to me that some of those present didn't understand the difference between what is OK at a demonstration and the way a meeting should be conducted.
A 'pro-Corbyn' meeting at another venue not too far away had begun an hour or so earlier and many of those present then marched down to the college. At some point during the AGM the chair told us that there were hundreds of people 'baying' outside and, since the hall was not big enough to hold any more, all business except the elections would be suspended and we would be asked to vote, hand in our ballot papers and then leave the hall by the side entrance – which I did.
I understand there were then two more sessions. Since they would have included most of those from the earlier 'pro-Corbyn' meeting, I imagine the behaviour was unlikely to have improved after I left.
The ward I live in was represented by three Labour councillors from when I arrived in 1969 until recent years. The Greens eventuially managed to secure the seats, but at the last local election we elected an excellent Labour councillor. So I was horrified to learn that one of the candidates for office at the AGM was someone who had stood against her at the election representing the Trade Union and Socialist Coalition (TUSC).
I am in favour of people changing their views and allegiances, as they will, but I think there should be some kind of 'cooling-off period' during which those who have opposed Labour in the recent past are not allowed to stand for office in the party.
Vote loser
At the end of the day my doubts and suspicions about Corbyn and his supporters don't matter very much. What does matter is that he seems no more cut out to lead the Labour Party than I do – the difference being that I know that. All too often he comes across as inept and unable to communicate to anyone not 100% on his wavelength. On second thoughts, I think I might make a slightly better job of it.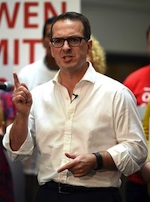 So where are we now? I'm starting to find Corbyn's evident self-satisfaction and self-righteousness, and his lack of concern for the future of Labour, more and more repellent. I'm not overly impressed by Owen Smith – I'd have gone for Angela Eagle if I had been in the PLP. That said, my opinion of him has improved since I saw his YouTube interview with Owen Jones.
However, whatever his merits or demerits, if Smith doesn't win it is difficult to see much future for the party. Having said they have no confidence in Corbyn, MPs can't credibly turn around and say they're now going to support him if he wins – as seems almost inevitable. Having taken this very dangerous course, which may well end with most of them either being deselected or defeated electorally, I'm astounded that the 172 aren't doing more to state their case. Perhaps they are and I'm not hearing about it – I hope so.
All 172 should hold public meetings to explain to their constituents, in as calm and detailed a way as possible, why they have 'no confidence'. Given that the Corbynistas are behaving like a religious cult (no accident that his initials are JC!) what I'm suggesting would take some courage – but it seems to me the best bet if they are serious about seeing the back of him.
I've made the same suggestion to the nearest Labour MP – Peter Kyle in Hove – and to Hilary Benn and the resigned members of the old shadow cabinet. Surely they've got to do something, if only for self-preservation?
It's no good Smith just banging on about his policies, which are not much different from Corbyn's. I didn't think we made policies by voting for leaders anyway. Corbyn should go because – rightly or wrongly – he is a vote loser. Unlike us, most people are not obsessed with politics, and they see him as a nice old softy who they can imagine working on his allotment. They say they like him, but then look horrified when asked if they would vote for him.
The problem is, of course, that a party as divided as Labour at the moment is even more of a vote loser. Who knows how we are going to cut the Gordian knot.
—-
Ian Bullock writes about the relationship between socialism and democracy. He is the author of Romancing the Revolution: The Myth of Soviet Democracy and the British Left, and co-author, with Logie Barrow, of Democratic Ideas and the British Labour Movement, 1880-1914.
Under Siege: The Independent Labour Party in Interwar Britain, by Ian Bullock, will be published by Athabasca University Press in January 2017.
Also see Ian Bullock's 'What Can We Learn from the Inter-War ILP?', plus 'A Living Wage: A Policy with History', and 'Disaffiliation and its Aftermath'.
His profile of Fred Jowett is here.