Hope not Hate have launched a new website to mark the 80th anniversary of the Battle of Cable Street when the people of the east end of London united to halt Oswald Mosley and his British Union of Fascists (BUF) from marching through Stepney.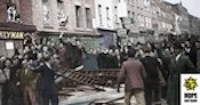 The fascists were subjected to a humiliating defeat as the police found themselves unable to clear a path. The battle has been described as "the most popular anti-fascist victory to take place on British soil".
Hope not Hate's new site profiles Stepney and the rising tensions leading up to 4 October 1936. It examines the Jewish community of the time, looks at the battle itself and its legacy, and includes interviews with historians and Cable Street veterans.
The ILP was one of the organisations that helped mobilise opposition to the march and the website includes a copy of the ILP's pamphlet They Did Not Pass which described the events of the day.
The website also contains eyewitness interviews, old TV footage and lots of anti-fascist, fascist and police documents to help piece the day together.
It lists various events being held to mark the 80th anniversary of the Battle of Cable Street and brings the story up to date with news of more recent anti-racist and anti-fascist campaigns.
"Generations of activists, including ourselves, have been inspired by the courage and example set then," said Hope not Hate's Nick Lowles in an email to supporters today (4 October 2016).

"Yet eight decades on, hate groups and populist political parties are attempting to blame and target recently-settled communities and vulnerable minorities.

"Our campaign today seeks to expose these flag bearers of hate and emphasise what unites rather than what divides us. Just as those present at Cable Street did so, so courageously, 80 years ago.

"It is vital to keep the memory and spirit of the event alive and to ensure that the timeless lessons of 4 October 1936 are not forgotten. And vital to keep supporting that spirit of struggle."
—-