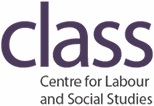 Leading thinkers and key figures in the Labour movement will come together with grassroots organisers and activists at a conference in London on Saturday 5 November to "take stock, discuss policy solutions and map a progressive path forward for Britain" post-Brexit.
'Britain at a Crossroads: finding the progressive path', organised by the Centre for Labour and Social Studies (Class), will be addressed by a huge range of speakers from journalists such as Owen Jones and Paul Mason to Labour politicians such as Keir Starmer and Claude Moraes, plus a number of trade unionists, academics and campaigners.
The three main plenaries will focus on Britain in the wake of Brexit, where it leaves the left and how to build a progressive future, while the 12 breakout sessions cover a wide range of topics from young people to climate change, tax reform, migration, the north-south divide and the housing crisis.
What: 'Britain at a Crossroads: finding the progressive path'
When: 10am-5.00pm, Saturday 5 November 2016
Where: TUC Congress Centre, 23-28 Great Russell Street, London WC1B 3LS
Tickets costs from £4-£10 and can be booked online here.
For all the details, including a full list of speakers, all the sessions and location, click here.