The ILP has republished a first-hand account of the Battle of Cable Street to mark the 80th anniversary of the day in 1936 when the people of London's east end united to halt Oswald Mosley and his British Union of Fascists (BUF) from marching through Stepney.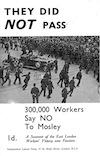 They Did Not Pass: 300,000 Workers says NO to Mosley was first published by the ILP shortly after the events of 4 October when the ILP and other organisations came together with the local Jewish community to halt Mosley's march.
It tells the story of the build-up to the events, from Mosley's announcement of his intention to march through east London, to the calls for resistance, to the violent events of the day itself and the moment at 3.40pm that afternoon when the commissioner of police told Mosley he could not go ahead.
"When this information was communicated to the fascists uproar broke out," reported the ILP pamphlet. "At that moment they revealed all their vileness with a display of filthy language directed against the Jews. They had confidently expected that the police would ensure they had a day out, and they were greatly disappointed."
It ends by calling on the workers of east London to "maintain and intensify their spirit of resistance to Fascism", adding, "We must now carry the offensive against Capitalism itself and against the National Government which represents it: we must determine they shall pass away forever!"
They Did Not Pass was originally sold for one old penny but we are making it available to read or downloadable as a pdf document from our Publications page.
Click here to read They Did Not Pass as a pdf document.
—