Labour is in a mess over Brexit and its strategy for the forthcoming parliamentary votes on triggering Article 50 is a shambles. It did not have to be this way, argues WILL BROWN.
Labour is in a terrible bind over Brexit. Whatever it does risks losing it votes and, potentially, seats. Some of its MPs' constituencies are heavily pro-EU; others pro-Brexit, including Stoke-on-Trent and Copeland where by-elections are looming – a fact that is certainly sharpening the party's dilemma.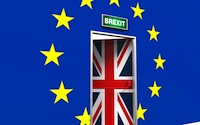 Yet, the leadership seems to have made a difficult situation worse and has ended up in a ludicrous position.
For a start, the attempt by Jeremy Corbyn to insist on a three-line whip for the vote on triggering Article 50 has very little chance of success. After all, the PLP's leading rebel in past years has few sanctions to inflict on those who do not follow his line now he's at the helm. It's not as if Labour MPs are falling over themselves to be in his shadow cabinet team, nor competing for his grace and favour.
Why he didn't allow a free vote, as he did over Trident renewal, is rather unclear. Deciding to wield the smack of firm leadership and then watching MPs defy him is the worst of all worlds.
Even more troubling is his commitment to vote for triggering Article 50 even if Labour's various proposed amendments fail. If Labour is seeking to make support for Brexit conditional upon a series of very laudable demands – to maintain EU-level protection for the environment and workers' rights, to ensure access to the single market and proper parliamentary scrutiny – then it has to be able to withdraw support when those commitments are not met. To be effective, 'red lines' have to count for something.
Labour could have made these conditions the centre of its strategy and then worked towards building cross-party support while threatening to vote against triggering Article 50 at this stage if they failed (which they probably, but not certainly, would). It could then revise its vote at some future stage if the government gave sufficient ground on its negotiating goals.
That would seem to be a principled stand – it doesn't reject the referendum result outright but says the party will only accept Brexit on terms that mitigate some of its worst features. It would also make for much smarter parliamentary tactics that shift some of the pressure back on to the government benches.
Unfortunately, it seems the opportunity to do this has been passed and we face the unedifying prospect of Labour voting through the Brexit bill without substantially altering one jot of the terms on which it will take place. With Labour MPs voting every which way, the muddle over the party's response to Brexit is set to go on.
—
See also: 'Brexit: Do we Need a New Consensus?' by Dave Berry.