Every government since New Labour has made education its top priority yet inequality still runs through the system from top to bottom. So why have they failed and how can Jeremy Corbyn's Labour Party win support for a return to the principles and values of the comprehensive system?
That was the question raised by writer and campaigner Melissa Benn at the ILP's fourth Unbalanced Britain seminar in Sheffield on 5 March.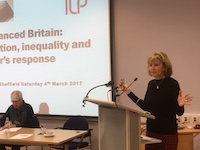 Benn, the current chair of the cross-party group campaigning group Comprehensive Future, outlined the failed policies pursued by three sets of politicians over the last 20 years and called for a different approach based on the ethos that education should be a free, lifelong, equitable and democratically-run public service.
Benn's whistlestop tour of government attacks on comprehensive schooling took in New Labour's "missed opportunity" to phase out selective schooling; Michael Gove's emphasis on uniforms, blazers and character-building – "a kind of cut-price Eton with a narrow curriculum"; and Theresa May's desire to expand grammar schools and re-establish academic selection at the heart of the state system.
Benn picked out just three markers of inequality to show how all these approaches had failed, pointing out that for all the sustained emphasis on exam results only a third of young people from disadvantaged backgrounds achieve the much-heralded five or more A-C grades at GCSE, compared to 60 per cent of those from better off backgrounds, while the "catastrophic" cost of university means there's still a 16 per cent gap between the disadvantaged and the better off in access to higher education.
"Seventy per cent of children from the wealthiest backgrounds get the best education," she said. "This not only prevents children of poverty rising up the social scale, it ensures children of the better off do not fall down.
"It is not just a question of who goes to which schools but what happens in those schools. From New Labour onwards every government has made inequality in education their priority, yet the figures show we haven't closed the gap."
All three approaches have been characterised by a belief in "a return to traditionalism", added Benn. "Under Blair, Gove and May there has been an underlying notion that the establishment do education right, through public schools and grammars, while state schools don't.
"It is time for a different approach based on an understanding that there are no short cuts.
"We have to invest wisely in areas where pupils need it most; we have to get away from the notion that education is all about testing and results; and we have to get back to the democratic ideals of child-centred schooling followed by free access to university and well-supported adult education."
Benn acknowledged that none of this will be possible without more sweeping changes in wider society towards greater economic equality. Yet she had a message for Labour's leader about how he can win support for the comprehensive ideal pioneered by the party in the 1960s and '70s.
"If I was Jeremy Corbyn I would go back to those principles and values – that education should be free, lifelong and equitable," she said. "And I would say clearly that it should be a public service under public scrutiny.
"But I would also make this a bigger conversation with the nation. Labour needs to create a narrative about education in the broadest sense, to remind people that it led the comprehensive revolution in the '60s and now wants to take it forward.
"Then it can talk about what's gone wrong over the last 30 years, point out that education has become a competition and all that has resulted from that. It should say, 'We want children to learn to think for themselves, to learn how to be citizens and to learn how to live together.'
"Politics is the business of persuading the public to see the world the way we do. Labour has to make its socialism the language of common sense and togetherness. Education can be at the heart of that."
A different view
For Julie Thorpe, schools programmes manager at the Co-operative College and the seminar's second speaker, Labour should also embrace the rapidly growing co-operative schools movement as one response to the marketisation of education.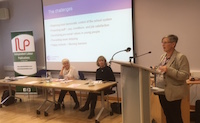 Since the Rochdale Pioneers, education has been central to the co-operative movement, she said, and now co-operative schools are becoming a movement in themselves. More than 600 have been set up around the country over the last 15 years, and co-op schools now make up the third largest group of independent providers after the Church of England and the Catholic Church.
"These schools can help to meet the challenges thrown up by the rise of academies and 'free schools', and the undermining of local education authorities by chains of private trusts," she said.
Based on a co-operative governance structure underpinned by a values-driven ethos and a commitment to engagement with stakeholders and the wider community, Thorpe argued that co-operative schools help retain local democratic control, protect teachers' terms and conditions, deter asset-stripping private providers and create happy school experiences for pupils.
"The co-operative movement put a huge amount of time and resources into education, not just to run co-operative businesses well, but to help people live full and engaged lives," she said.
"Through their values and ethos they can help produce a generation of young people who have a different view of education."
—
Articles from the two main speakers at the workshop will be published on the website in the next few weeks.
Click here to download the ILP's leaflet about the event, Unbalanced Britain: Education, Inequality and Labour's Response.
Click here to read about previous meetings in the ILP's Unbalanced Britain series.