The street-fighting that took place in Barcelona in May 1937 remains one of the most controversial episodes of the Spanish Civil War. Hundreds died as the city was criss-crossed by a labyrinth of barricades.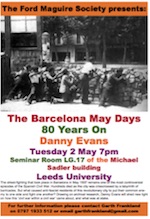 But what caused anti-fascist residents of this revolutionary city to put their common enemy to one side and fight one another?
Drawing on archival research, Danny Evans will shed new light on how this 'civil war within a civil war' came about at a seminar in Leeds on 2 May.
Presented by the Ford Maguire Society, the meeting marks the 80th anniversary of Barcelona's May Days by exploring what was at stake during the conflict.
What: The Barcelona May Days: 80 Years On
When: Tuesday 2 May
Where: Seminar Room LG.17, Michael Sadler Building, Leeds University
Who: Dr Danny Evans of the University of Leeds
—-