For A-level student student ROBIN EDEN, the Tories' attack on the National Health Service makes the choice at the coming general election a straightforward one.
Ever since its birth on 5 July 1948, the National Health Service has provided the British people with healthcare that is comprehensive, universal and free at the point of delivery. It is widely regarded as one of the most successful and invaluable social reforms in British history, but it needs to be protected and preserved against a Conservative government that has been actively cutting it for seven years. It is beginning to bleed to death, but on 8 June, we can change that.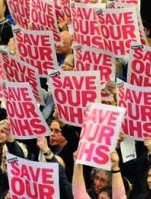 Conservative cuts have savaged the NHS exhaustively, putting Britain's wellbeing in jeopardy. Since 2010, spending per patient has decreased 9.1%; 40% of walk-in centres have been axed; a sixth of A&Es have shut; 15,000 hospital beds have gone. Meanwhile, £21 billion has been wasted on agency staff, and £22 billion has been cut for the sake of 'NHS efficiencies'.
Valuable workers have taken the brunt – 5,309 mental health nurses have been cut; nurses and trainees doctors have suffered pay cuts of £2,300 in real terms; nurse vacancies are up a huge 200 per cent; GP vacancies are up 500 per cent. All this takes a significant toll on services – 37 per cent more urgent operations have been cancelled than previously, and NHS waiting lists numbers are at an eight-year high.
In January this year, inevitably, a winter crisis took its grip on already over-stretched hospitals. The Red Cross, which is usually occupied with famine and natural disasters, was contacted by hospitals across the country desperately needing its aid. Indeed, the number of patients requiring Red Cross help has risen from 60,000 to 80,000 per year in the last three years.
In 2004, the Labour government set the NHS a target of seeing 95 per cent of patients within four hours, a target has not been achieved since 2015. A leak revealed that in English hospitals during the crisis, there were 18,000 trolley waits of more than four hours, meaning only 82.3 per cent of patients nationwide were seen in this time. Some 485 patients waited for more than 12 hours, treble the number from the previous January and the worst performance since the target was introduced 13 years ago.
Tory ideology
The government could provide more funding, and they could do so effortlessly. They could find billions of pounds by reversing cuts on corporation tax, which at 19% in the UK is already far lower than many of our European counterparts. In France it is 33.3%, in Italy 27.9%, in Germany 32.925%, and in Spain, 28%. In the UK it is set to drop to 17% by 2020 under Tory plans.
The government could find a billion pounds by reversing inheritance tax for the extremely wealthy, and it could withdraw billions of pounds from unpopular pet projects such as free schools. The failure of Theresa May's government to provide sufficient funding is therefore due not to "the financial restraints of the economy, but the dogmatic constraints of her ideology", as shadow health secretary Jon Ashworth put it.
Ashworth has pledged that a Labour government would "allow NHS staff a fair pay rise", would "invest in staff training" and "put safe staffing into law", increasing the number of front-line staff to account for the 6% shortfall estimated by the Public Accounts Committee last year.
It is essential that we elect a government that will provide for the National Health Service. To vote Tory and strengthen the hand of Theresa May would result in a crushing iron fist falling on the Service, with many more and much worse winter crises to come. A vote for Labour is a vote for a 'strong and stable' NHS, and an NHS that works for everyone.
—-
Robin Eden is a sixth form student studying A levels at William Howard School in Brampton. He is a 'mildly active' member of the Labour Party and volunteers for Amnesty International and other local charities.